Lent & Easter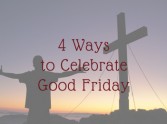 "To the casual observer, there was nothing unusual about these six hours.To the casual observer, this Friday was a normal Friday. Six hours of routine. Six hours of the expected.Six hours. One Friday." - Six Hours One Friday by Max Lucado
March 14th, 2018 - Posted & Written by Laura White
Most Popular Articles
The Star UK DVD Release Date
Posted on Tuesday 25th of September
5 Things You May Not Know About Chris Tomlin
Posted on Thursday 20th of September
The Chronicles of Brother Series - Wendy Alec
Posted on Thursday 20th of September
The One Hour Bible - Review
Posted on Friday 14th of September
Moments: Mighty Sound by Bethel Music - Review
Posted on Thursday 13th of September
The Star UK DVD Release Date
Posted on Tuesday 25th of September
5 Things You May Not Know About Chris Tomlin
Posted on Thursday 20th of September
The Chronicles of Brother Series - Wendy Alec
Posted on Thursday 20th of September
The One Hour Bible - Review
Posted on Friday 14th of September
Moments: Mighty Sound by Bethel Music - Review
Posted on Thursday 13th of September
When is Good Friday 2018?
Posted on Wednesday 28th of February
When is Palm Sunday?
Posted on Thursday 1st of February
The Ultimate Guide To.... Classic Christian Books
Posted on Saturday 15th of April
What Are Eden Bundles?
Posted on Friday 11th of November
Life Application Bibles - finding the life you were meant to lead
Posted on Monday 4th of June
Updates from the live @Edencouk twitter feed!
Don't forget to follow us @edencouk
Recent Article Comments
No Comments.
Nia Wright has made 0 posts.
34 useful comments
A Reader has made 2 posts.
28 useful comments
Les Ellison has made 50 posts.
10 useful comments
James Warwood has made 4 posts.
8 useful comments
Lyn Myers has made 5 posts.
8 useful comments
Last updated: 17800 days, 0 hr, 43 mins ago