Songwriter Andrew Kisumba from Huddersfield Christian Fellowship has written a song that is being adopted by many as an anthem for the Olympics.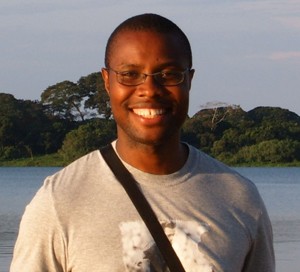 Andrew Kisumba
The song was chosen by BBC Radio Cornwall to kick off the announcement of the Torch Relay in Land's End. It is also being premiered at the Royal Albert Hall by a 500-strong children's choir from Andrew's local area for the National Music For Youth and Schools Prom later in the year.
Andrew writes music for congregations, choirs, groups and soloists and often draws on his Ugandan heritage. He has also worked as a session singer. Andrew explained that the song was actually written a while ago:
"I had been watching one of the inspirational stories of an up and coming British sprinter, Shaunna Thompson, and the idea popped into my head just before I retired for the night. The piece wasn't like the type I normally write so I shelved it, but it has taken on a life of its own and people have picked up on it as a song for the Olympics.
"Musically it attempts to incorporate many of the different elements of multicultural Britain – an ethnic chant, traditional marching drums, featured guitars, chorus vocals and a soaring orchestral arrangement. The start is purposefully ethereal and it slowly, but deliberately, rises to a dramatic finish.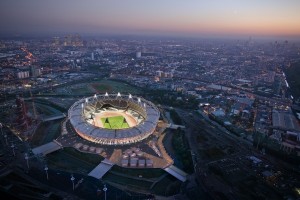 Olympic Village
"In the main, I am usually inspired to write songs of a more apparent spiritual nature. Interestingly, there is a story in the Bible of divine power descending on a frightened, inadequate, limited group of people as 'tongues of fire', which are often depicted as little flames in many works of art illustrating this account. Some have related the song to this influence and I suppose this was also in my sub-conscious."
It wasn't until later that Andrew realised that the verse contains the Olympic motto 'Swifter, higher, stronger'. When BBC Radio 2 picked up on the song and gave it its first airing, Andrew's local church decided to include it as a bonus track ('Flame') on their latest live worship album Sound of Cathedral House, "because we thought it would appeal to people outside the Church and Church goers alike and also because of the upcoming Olympics."
The song was then released worldwide as a single called 'Free the Flame (Flame)' in February 2012 and has been picked up by various schools and choirs who want to perform it. Someone even adapted a video created by London 2012 to go alongside it.
Andrew said: "I hope that the song will enable people who don't have a sporty bone in their body but want to get involved in the excitement of the Olympics to be able to do so."
April 3rd, 2012 - Posted & Written by Claire Musters