From mini-mags to sports bibles - a host of new resources for churches to use during the London Games will feature at the forthcoming Christian Resources Exhibition International (CRE).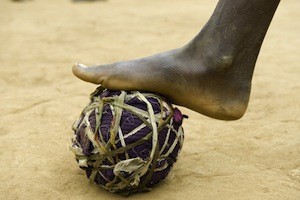 African style footballs
being showcased at this year's CRE
More than 10,000 people, the majority in some form of leadership in their local church, are expected at CRE from 8-11th May at Sandown Park, Esher. The event is the largest annual exhibition of Christian resources in Europe.
Lord David Puttnam, who turned the story of athlete Eric Liddell into the Oscar-winning movie Chariots of Fire, will open the show and launch a special set of church and community resources created by the Damaris Trust to accompany a re-release of the digitally re-mastered film in cinemas across the country.
"In this unique year, with the London Games at the very top of the agenda, we expect hundreds of UK churches to come to CRE and discover some great ways to communicate to their communities before and during the Games," said Paul Trott, head of marketing for CRE's parent company Bible Society.
According to More Than Gold, set up to enable UK churches engage with the 2012 Games, as many as 5,000 churches are already making plans to engage with their communities and welcome international visitors.
Among a host of resources they will be able to find at the show will be a pocket-sized, 36-page booklet, entitled More Than Gold Mini-Mag. Suitable for all ages, the booklet contains a history of the Olympics - venues, facts, stats and trivia - along with testimonies from Olympians and a down-to-earth message.
The Churches For All zone at CRE will feature a special Paralympics theme. Visitors to the Torch Trust stand will be encouraged try out a hand-cycle, similar to those used in the London Games."
Also available will be a special sports edition of the Bible, suitable for all ages. With 40 full-colour pages exclusively dedicated to sport, the Bible, produced by Bible Society, connects sport with faith through stories, reflections, Bible studies, topical references and points the reader to relevant passages.
Send A Cow will promote their 'Recycling Olympics' materials for schools and church youth groups.
"We are inviting churches to hold an alternative sports day and try out traditional African games – or African twists on some Olympic sports – using recycled materials," explains Send A Cow's Eleanor Simmons.
"We show you how to make plastic bag footballs African-style [pictured]. These are already extremely popular with children in the UK. This year, we've added ideas for a wide range of fun events – all highlighting the need to learn from Africa and make better use of our resources."
April 19th, 2012 - Posted & Written by Sam Hailes