Welcome to the most exciting musical collaboration of the year. Jesus Culture and Martin Smith's live album could be both artists career-defining work.
Right from the outset (a pulsating drum solo) Live From New York is soaked in passion, drive and energy.
Martin Smith and Jesus Culture are a match made in heaven. Designed to be blasted out at full volume (especially album opener Fire Never Sleeps), when it comes to modern worship music this album is a game changer.
The double disc production is the first chance for fans to hear a recording of the ex Delirious front man in a live setting. It doesn't disappoint. There are plenty of live worship albums for Christians to enjoy, but very few take you to the heart of the action like this does. Martin's personality shines through as we're able to hear him give verbal cues to the band and even share brief thoughts and encouragements with the thousands gathered.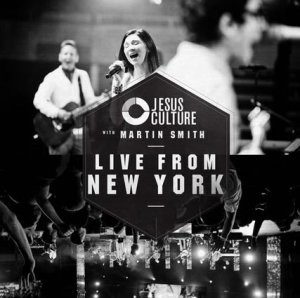 The choice of songs and arrangements are superb. It's clear when we're listening to a Jesus Culture song, a Martin Smith song or a song where both parties are working together.
Second track Forevermore is typical Jesus Culture. Loud, declarative and joyful, the song is led by Chris Quilala and Kim Walker-Smith.
This can be contrasted with Waiting For You where Martin begins the song by singing softly over a solidary piano before Kim Walker joins in. By the end, the band have built the song into a epic chorus of 'hallelujah'. Martin even sings part of the song in Spanish before saying "when a generation starts singing hallelujah together that's really powerful. We talk about spiritual warfare and the devil and all that sort of stuff but when we sing together, we can change nations, can't we?"
While such a comment (and Kim Walker's spontaneous song near the end of the recording) adds to the atmosphere captured, other sections are more questionable. Take for example the moment Martin Smith brings the music to a close and asks the thousands gathered to wait on God. The silence lasts just seconds before the crowd speed up their initially slow clap. Applause is the inevitable conclusion and the band launch into the next song.
Just a few Delirious classics appear in the spontaneous choruses of Our God Reigns and Majesty. Did You Feel The Mountains Tremble sees Chris do a marvelous job of singing the third verse. Even the most loyal of Delirious fans will be forced to admit the Jesus Culture band have done an exceptional cover of this timeless tune.
Martin Smith leads as you'd expect him to. The world-class worship leader maybe introverted off stage, but once he's behind a microphone there's no stopping him. His experience combined with Jesus Culture's youthful exuberance results in a high-octane yet mature sound.
Stand out songs include I Am In Love With You, which contains an infectious verse melody sung by Chris. Martin Smith's Song of Solomon is also a highlight, but don't be confused by the opening lyrics 'over the mountains, over the sea', it's not a cover of I Could Sing of Your Love Forever!
With nearly two hours worth of high-intensity worship music, you'll be sure to get your moneys worth from this double disc offering. The night comes across so excellently on the recording, you'll be dying to watch the event. Sadly no DVD has been provided. But this disappointment, alongwith the aforementioned interludes, are minor offenses to be overlooked in the grand scheme of things.
This is without doubt the best live worship album you could hope to hear this year. Both artists emerge stronger thanks to their collaboration and only a madman would rule out future joint projects.
The hype surrounding this album is well-earned but Live From New York has managed to surpass these sky-high expectations.
This album has all the hallmarks of a classic in the making.
Rating: 10 out of 10
November 14th, 2012 - Posted & Written by Sam Hailes