With the passion of a preacher and the zeal of a prophet, Darlene Zschech proclaims the finished work of Christ in her very first live solo album & 365-day devotional – 'Revealing Jesus'.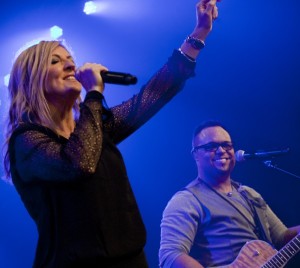 Back in September 2012, Darlene Zschech led worship at a women's conference in the Church of Highlands in Birmingham, Alabama. She introduced 9 new worship songs for proclaiming the victorious Christ and revealing the tangible presence of God.
"My passion is to put those lyrics in the mouths and in the hearts of everyday men and women like you and myself to give us courage for whatever we may be faced with."
Israel Houghton joined her (and contributed 2 extra tracks from his Grammy nominated album, 'Jesus At The Center') along with Michael W. Smith and Kari Jobe. This collection of songs have untold potential for congregational worship. With the first 4 songs boldly declaring victory with musical energy and lyrical oomph, the other songs capture intimate moments for encountering Jesus.
With husband Mark, the couple are now senior pastors of Hope Unlimited Church on Australia's New South Wales coast. Darlene is also a founding supporter of 'HOPE: Global' bringing hope and healing to nations including Rwanda, Cambodia, and Uganda, as well as an active campaigner for the world's poorest children through 'Compassion International'.
Album Highlights
VICTOR's CROWN:
• Captures & articulates the finished work of Christ on the Cross
• An Easter themed worship song – congregational, uplifting and powerful
• Reminiscent of her slow-burning, explosive worship anthems 'Mighty to Save' & 'Worthy is the Lamb'
GOD IS HERE:
• Energetic & lively opening track, guiding listeners towards Jesus
• Gets your heart beating to the Saviour's drum
• Superb opener to congregational worship: "God is here, God is here // God is here, he is able // We draw near to see Jesus face to face."
MY JESUS I LOVE THEE:
• Classic hymn beautifully rejuvenated with strings, chimes and a choir of women
• A tapestry of fragrant worship, the gem of the entire album
• Darelene opens her heart to the crowd and reveals her love for Jesus
IN JESUS' NAME:
• Epic, 10 minute worship song proclaiming the power of the resurrection
• "I will live, I will not die, I will declare and lift you high // Christ revealed, and I am healed, in Jesus name."
• Darlene speaks encourages everyone to sing the words from the Word of God as a dedication to those battling cancer.
Worship: More than Music and Ideas
With a deluxe CD/DVD and a 365 day devotional, Darlene Zschech's 'Revealing Jesus' is a new comprehensive spiritual growth, personal study and worship music experience from Hillsong Church's energetic singer and songwriter. It's her long experience with Hillsong that underpins Darlene's commitment to worship as the most fundamental response in the Christian life. It's inevitable, then, that worship will be the foundation of her output whether or not its expressed in song.
In interview, Darlene describes her own purpose as simply "to communicate the presence of God". Indicating her own heart, she says of God: "It's what's coming out of here that matters – he wants more than our music and great ideas."
For those who want to study the Bible, but find it overwhelming, Darlene's 365 day devotional, 'Revealing Jesus', introduces scripture to the reader gradually. These are mini – even micro Bible studies, for those who don't know where to start.
Fuelled for Service as You Read
With the book's main purpose of helping you find a fresh perspective and a new source of hope for each day, her devotions are, perhaps, most useful for when you feel stuck in a 'prayer-life rut'.

"Revealing Jesus", she says, "came about after many conversations with friends and even more conversations with God… This devotional was written to give you food for thought each day about how Jesus is revealed in our everyday lives." Her prayer for you is that, through this devotional: "You're fuelled for service as you read and that your heart yearns of more of Jesus as you worship him with ever fibre of your being."
May 5th, 2013 - Posted & Written by James Warwood