Who Let The Dads Out? aims to inspire, equip and support churches to develop projects which will give fathers, male carers and their children the opportunity to spend time together, have fun and engage with the church.
We want churches to begin running parent & toddler sessions for fathers & their children to attend together. No other organisation has provided parent & toddler sessions as consistently, passionately or with the same longevity as the Church. Those sessions are highly successful in supporting mothers & their children but reach relatively few fathers, grandfathers & male carers. There is a growing demand for male-orientated parenting groups. Churches also need to find new ways to reach out to the male population.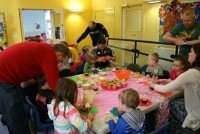 A well run Who Let The Dads Out? group can:
Strengthen families - dads engage in parenting their children & consequently engage better with their partners in the role of parents

Invigorate communities - men develop a stronger network of friends within the local community helping in the process of binding a community together

Encourage Christian faith to be passed from one generation to the next - the Church can engage with fathers, encourage them to explore faith issues & challenge them to teach their own values & beliefs to their children.
A typical Who Let The Dads Out? group might look like this:
For fathers/male carers and their pre-school age children

Run once a month on a Saturday morning

2 hours duration with timing to suit families in the area

A relaxed welcome including tea, coffee, bacon butties (or similar) for the dads and juice, biscuits for the children

Lots of age-appropriate toys, books, dressing-up, etc.

An activity zone - such as a Bible-themed craft

A story time or song time

- and good conversations!
Who Let The Dads Out? is a gateway activity to engage with fathers and male carers that meets a real societal need and provides natural opportunities to explore faith issues.
Who Let The Dads Out? is a growing ministry that began at Hoole Baptist Church, Chester in March 2003, becoming a national initiative in 2008. In March 2012, Who Let The Dads Out? became a core ministry of BRF, a registered charity working throughout the UK.
Interested? How to find out more…
Check out our book Who Let The Dads Out? Visit our website at www.wholetthedadsout.org or contact the national co-ordinator at tony.sharp@brf.org.uk or call us on 01865 319700.
March 14th, 2013 - Posted & Written by The Editor