Summer is a time for adventure, for family trips to parks, castles, and beaches. But then you look out of the window and see the buckets of rain pouring over everything. But whoever said rain could ruin all the fun?
Here are some of our top picks for ways to entertain your children this summer: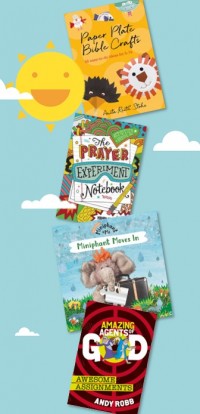 Crafts
Don't just make-do with bad weather; make and do with these idea-filled books of Christian crafts. Taking the simple paper plate as a starting point, Paper Plate Bible Crafts constructs whole bible stories for kids aged 5-7.
And for a little more variety and depth, The Prayer Experiment Notebook shows how anything from Lego to bubble-wrap can be used in prayer.
Books
For ages 3-5, the Miniphant and Me adventures feature the cutest elephant this side of Dumbo: the adorably mousey Miniphant. The three books all share valuable lessons in a fun way.
For for the older kids aged 7-11, Andy Robb's Amazing Agents of God books read like special reports straight from the Bible. Both filled with adventure and secret missions!
Music
Nothing speaks to fidgety kids better than music. For toddlers, we have a new CD of actions-based songs in Praise Songs for Toddlers. And for kids ages 5 to...well...I'm 29 but absolutely love it - there is the energetic new album from the recently renamed Bethel Kids; Bright Ones.
DVD
And after all that singing and dancing, what better way to rest than cosying up to watch a good DVD? For younger kids, there is God Loves You Very Much, which has four all-time VeggieTales favourites. And for all the family, there is The Stray (due for release soon!). The story of one family whose lives are changed by one, good-natured pooch
For more great gift ideas for Children, check out our Prizes and Presentation department.
July 19th, 2018 - Posted & Written by Aaron Lewendon