Vicky Beeching's story of coming out to the church, Undivided offers hope for readers looking to live free from shame.

Nicknamed 'coup de sabre', Linear scleroderma morphea of the forehead looks like the scarred furrow of a sword's blow. The battle scar of an internal war. Linear scleroderma morphea is an auto-immune disease that develops as scar-tissue, first affecting the soft-tissue of the skin, and then in worst-case scenarios affecting internal organs. Left untreated, this 'coup de sabre' could take everything. It was this sword's blow that acted as a turning point for Vicky Beeching, cleaving in two a life which became marked as before and after her coming out as gay.
For anyone unfamiliar with Vicky, she was the poster-child for Evangelical Christians in America and beyond. With degrees in Theology from Oxford, and then a high-profile career in worship music that carried her across the Bible-belt of America leading worship events, few people were as fully embraced by Christians as Vicky Beeching. She would perform in front of thousands, fully aware that many of people she sung before would spin on their heels were they to catch wind of who she really was.
Growing up in Church, you are often presented with a pretty clear picture regarding same-sex relationships. A picture of a striking similarity to the cities of Sodom and Gomorrah. For near-all her life up to then, Vicky has been bestowed a debilitating sense of guilt whenever she dwelt upon her own sexuality. From teenage confessional to attempted exorcisms at a Church camp, Vicky had done everything to try and get rid of what she thought was a sickness. Something to be cured.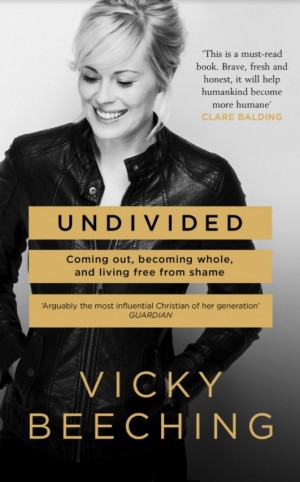 And then, just before the mid-point of her life, her body delivered its 'coup de sabre'. Finding herself a sword's-edge from losing everything gave Vicky the resolve to live honestly. Setting herself the goal of coming out by 35, a number she described as "half a life", Vicky was done living in secret, and in shame.
But coming out didn't just mean to her family. It meant to the coming out to millions of Christians across the world.
Undivided is more than Vicky Beeching's story of coming out to a daunting number of Christians. It is the story of fighting for change, fighting for self-acceptance, and of challenging people to live authentic lives for Christ.
Fewer debates have raged as much as the Church's own internal debate on same-sex couples. This week in America, the US Supreme Court backed a baker who refused to bake a cake for a same-sex couple. The fact that case went to the highest court in the land shows the depths of division felt right now. But if there was to be one thing to take away from Vicky's story, it's that there is still hope for wholeness, both as individuals and as a Church. Told with humanity and heart, Undivided is as much an act of healing and a message of hope for anyone struggling with their own sexuality.
Due for release on 14th June, Undivided by Vicky Beeching is available to order today.

June 8th, 2018 - Posted & Written by Aaron Lewendon