The very best thing we can do for our children's development is read to them. All the studies scream it out, all our primary school teachers swear by it, and even Chelsea footballer, Frank Lampard, has decided to get involved!
"Sport and reading are two essentials for us at home, so I decided to make up my own football stories and adventures." – Frank Lampard, taken from the BBC News Article – 'Frank Lampard signs children's book deal'.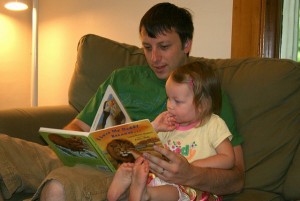 The joy of reading (and listening)
by abbybatchelder
Frank's first book – 'Frankie Versus the Pirate Pillagers' – will be coming out in June this year (which, he says, is loosely based on his team mates). I imagine his two young daughters love to be tucked into bed and have their Premiership goal-scoring dad read them his stories and other books.
But other than for entertainment, why is reading to your children so important?
Three Ways Reading Books Improves a Child's Development:
1. Children Hear New Words: Reading books to children has a direct link with building vocabulary. Children's books have a wider range of words that aren't used in everyday conversations. And often the same word is used in different ways, helping children to see how those words are used – 'that', 'and', 'because' and so on.
Through reading books with your child, you can help them build a vocabulary of up to 5,000 base words before they reach school age (that's roughly 3.5 words a day). Building reading into your daily routine is probably the best thing you can do for your child's development.
2. Builds Regular Parent-Child Interaction: G.A. Strouse conducted a study to see if children under the age of 3 learnt words by watching television. He found that the children didn't learn key words, but they did learn the same words through Skype conversations when they were interacting with adults.
Children need to hear words before they can speak them. It sounds simple and that's because it is! Book reading provides an ideal setting to foster language while at the same time building strong bonds with your children.
3. Encourages 'Dialogic Reading': When you and your child talk around the book, "look mum, I see a ball… So can I, what colour is the ball, George?" you are engaging in 'dialogic reading'. This language-based activity reinforces what the child has heard and builds even more variety of vocabulary and different sentence structure.
Reading a book with your child becomes an 'up close and personal' experience, with many studies showing that this interaction is where most language learning cements in your child's mind.
"The humble act of reading a book to a young child has repeatedly been found to have remarkable power." – From the Journal of Applied Developmental Psychology by E. T. Rodriguez.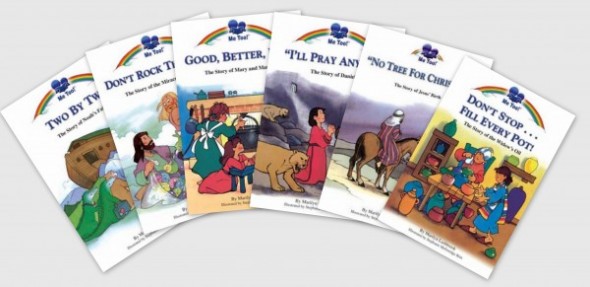 Christian's Book Series Which Supports All Three
The Me Too! Series is a very popular Bible Stories series with Christian parents up and down the country; selling in the hundred thousand's. And here's why – they foster language learning, they foster Bible learning, and they're really well written little stories (… and they're cheap too).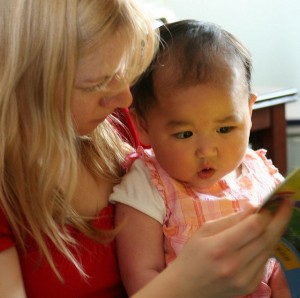 I wonder what she's looking at?
by ozzzie
The books invite children to be a part of the story by pointing, repeating, filling in, making sounds and answering questions. Basically, it makes dialogic reading happen! Children soak up new words, conversation flows and, best of all, they interact with the Bible stories.
All 16 books in the series are 32 pages long, have full-colour illustrations throughout and are aimed at children 3+. We highly recommend this delightful series to support you in reading to your children.
The books' only drawback comes from their low cost; because they are so cheap, they are small, in paperback though with a glossy cover. If you're looking for larger books or stronger boardbooks for young children, you'll find plenty of richly illustrated Bible stories in our Bible Stories Category. Or if you're looking for something different, try browsing through our Christian Fiction for Children Category to find books for preschoolers to tweenagers.
"The more that you read, the more things you will know. The more you learn, the more places you'll go." – Dr. Seuss, 'I Can Read With My Eyes Shut!'
February 22nd, 2013 - Posted & Written by James Warwood