Nothing is ever as it seems in a Ted Dekker novel. You think reality works one way, and then it is flipped on its head. None more so in the "one book to rule them all":
Three years in the making, The 49th Mystic is something different for Dekker. "A story unlike any I've written [...] The novel is called The 49th Mystic: Beyond the Circle—a whole new stand-alone story set in the worlds of Black, Red and White." This new book grows the universe of the Circle books, expands it, revolutionises is.
And the word on the street for this one is hugely positive. Advance readers are calling this one his best book so far. "Phenomenal", "An absolute masterpiece".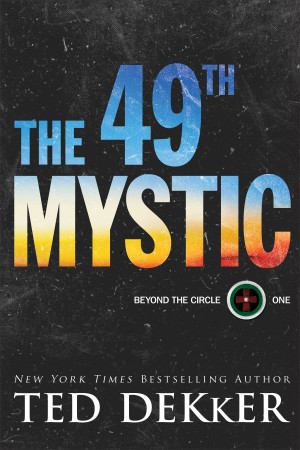 Now, I like to go into a book blind. But if you like to know what to expect, here's a quick blurb of the book from Dekker's site:
"Welcome to a wild new journey of discovery set in the worlds of The Circle (Black, Red, White, Green). It doesn't require reading those books, but will add layers of meaning for those who have. It all begins with The 49th Mystic, a wild quest story that will draw you in and refuse to let you go.
"Some say the great mystery of how one can live in two worlds at once died with Thomas Hunter many years ago. Still others that the gateway to that greater reality was and is only the stuff of dreams. They are wrong. In the small town of Eden, Utah, a blind girl named Rachelle Matthews is about to find out just how wrong.
"When a procedure meant to restore Rachelle's sight goes awry, she begins to dream of another world so real that she wonders if Earth might only be a dream experienced when she falls asleep in that reality. Who is a simple blind girl to have such strange and fantastic dreams?
"She's the prophesied one who must find and recover five ancient seals--in both worlds--before powerful enemies destroy her. If Rachelle succeeds in her quest, peace will reign. If she fails, both worlds will forever be locked in darkness.
"So begins a two-volume saga of high stakes and a mind-bending quest to find an ancient path that will save humanity. The clock is ticking; the end rushes forward."
To get your hands on a copy of The 49th Mystic, just click here.
July 11th, 2018 - Posted & Written by Aaron Lewendon