The One-Year Bible Challenge – harder than it sounds? 365 days to read:
· 66 Books
· 1,189 Chapters
· 1,587 Pages
· 31,103 Verses
· 773,692 Words
It may seem daunting, but the spiritual investment of reading the entire Bible in one year can be big.
For all those who need an encouraging nudge (myself included), Cover-To-Cover have released a One-Year Bible with an interesting twist.
What's Special About Cover To Cover Complete?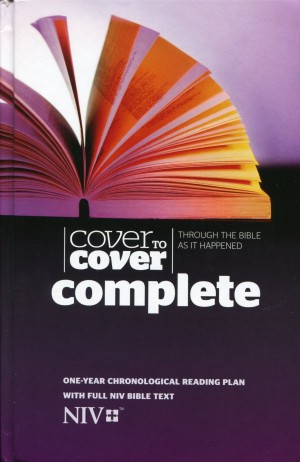 Most One-Year Bibles use the standard structure tradition has passed down – Old Testament, then New Testament. Cover-To-Cover Complete has shuffled the Bible into a chronological reading plan, meaning in this Bible, the story unfolds day by day in the order that the events happened.
The Cover-To-Cover Complete features:
· Full NIV Bible Text (2011 Edition)
· One-Year Chronological Reading Plan – entire Bible in manageable chunks
· Thought & Contemplation – devotion at the end of every chunk
· Time Chart – illustrates the entire Bible story
· Maps – shows Israel's geographical story
· Bird's Eye View – outlines every book
· Time Line – maps your progress
· Heart To Heart – encourages you on your journey
· Font Size: 11pt – which is classified as Large Print
A Common Stumbling Block Smashed
Reading the Bible chronologically smashes the most common stumbling block in the one-year challenge – Leviticus!
Those 27 long chapters have proved difficult for even the most determined of readers. It was certainly my brick wall when I took the challenge in my youth.
In Cover-To-Cover Complete, when the Israelites put into action a new law the next chapter you read is that same law from Leviticus. Instead of dragging your feet through the difficult sections of the Bible, you read them in a context that really helps you understand the meaning behind them. That same theory is applied throughout the whole Bible, meaning nothing is repeated and passages come alive in new contexts (which is especially true of the Gospels).
Sharpen With Study
"As iron sharpens iron, so one person sharpens another." – Proverbs 27:1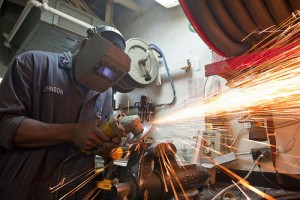 As Iron Sharpens Iron - Proverbs 27:17
By Official U.S. Navy Imagery
With the continued growth in popularity of cell and house study groups for discipleship and enhanced community, some feel that personal devotion has taken a back seat. Busy lives and family demands can all become barriers to individual Bible study. Consequently, instead of iron chiseled Christians sharpening each other, it can lead to some Christians lives lacking substance - much like melted Mars Bars.
It's important to have a balance between personal study and time with the friendship and guidance of like-minded Christians, without which you can wander off the narrow road. Independent devotional time compliments group Bible study. With both together you'll feel empowered to speak up in group study times, inspired to offer biblical advice to friends and family and be more in control of your Christian walk.
One-Year Bibles, like Cover-To-Cover Complete can support someone looking to sharpen up their devotional Bible reading. Those willing to take the one-year challenge will soak up the wealth of Scripture, from start to finish.
October 28th, 2012 - Posted & Written by James Warwood