Authors of Christian Humour, like Adrian Plass and Jeff Lucas, don't have to look far for their material. Their writing springs from real life experience very much like our own. The characters are people we recognise and can even put names to. Settings are familiar and the situations are those that frustrate us all.
In Christian humour, we all get the joke and most of us laugh. But is that enough, or is there more to Christian humour than simply being funny?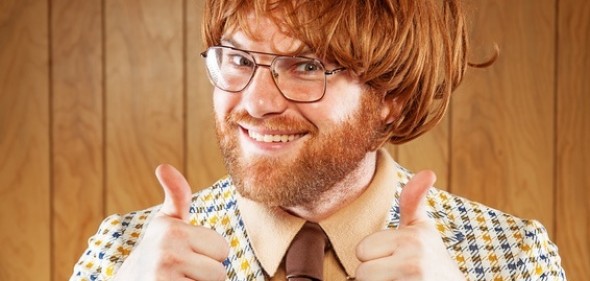 Laughing at life
Most people don't read Christian humour because they want to be preached at. Not that many of the thousands who followed Jesus around Galilee wanted to be preached at either. They – like us, wanted to be engaged and entertained.
Many would have wanted a good laugh. When Jesus told the story about the man trying to remove a speck of dust from his brother's eye, while all the time having an obvious and debilitating plank in his own, they knew exactly what he was talking about. But they not only got the joke, they also got the message.
Writing to raise a smile
Adrian Plass, Jeff Lucas, Andy Robb and Nick Page are four Christian humourists regularly attracting the bestseller sticker to their book covers. Just as popular and entertaining in real life, they appear with equal regularity on the Christian live chat circuit.
In the company of Christian humourists we get to smile at the weird, wonderful and sometimes deeply worrying, world of church. Their humour brings humanity to situations. It stops us taking ourselves too seriously and makes us more accepting of the faults and foibles of our fellow Christians.
Taking humour seriously
For all of these writers there's more to humour than creating laughter. With laughter, there has to be something or someone to laugh at. Laughter alone risks an 'us and them' division: we - on the inside, get to feel superior and smug because we can see the failings and inferiority of those on the outside.
Humour, on the other hand, puts all of us on the outside because it shows up the same faults in us all. The laughter at Jesus' one about the man with a plank in his eye probably didn't last long – if they laughed at all, not once everyone realised Jesus was talking about each one of them, and not just the religious leaders.
Humour is no laughing matter
Laughter is laughter, and Adrian Plass, Jeff Lucas, Andy Robb and Nick Page each have their own, unique brand of humour. This individuality makes sense when you give humour its original meaning of temperament, mood or disposition. Each of these writers creates in their readers a 'humour' - a feeling, that binds them together.
In finding a common and shared humanity, Christian humour sets no-one on the outside but effectively mocks anyone who mocks another, just as Jesus' plank in the eye story mocks anyone more concerned with the faults of others than their own. In Christian humour we recognise and laugh at ourselves, but is there still more to be gained under the surface?
Get the joke, make the change
Humour helps us face and think about the things that scare us most. Death, doubt, failure, anger and even sex are subjects approached with humour and sensitivity. Christian humour brings to the surface our deepest fears about faith, the Church and the future. It makes us smile and accept with honesty who we are and what we're like.
But the plank in the eye story doesn't end with a smile. It ends with the pain of someone facing up to what they have to do about it. Taking the plank out of your eye will hurt. It means a decision and it means change. Adrian, Jeff, Andy and Nick aren't writing just to make us laugh, they're writing to make us different.
Humour: could it be prophecy?
In a world where preachers have never been less popular, and traditional teaching methods often fail to connect, Christian humour writers could be the new prophets of wisdom for the present age. What do you think?
Quick Guide to Christian Humour: Who's Making Us Laugh?
Adrian Plass: Possibly the man who started it all with his Sacred Diary of Adrian Plass. Recent bestsellers include Salvation and Bacon Sandwiches, Looking Good Being Bad and War Of The Worlds. His wry looks at the silly side of church life are always warm and gentle enough to garauntee raising a smile without raising offence.

Jeff Lucas: Better known for his Lucas On Life series of devotions and more recently his Helen Sloane's Diary novels combining romance with the frustrations of church life. Teaching pastor at Timberline Church, Colorado, Jeff is an internationally popular speaker partnering Adrian Plass with their Seriously Funny books and UK tour.

Nick Page: Author of over seventy books for adults and children, Christian and secular. His most recent work includes God's Dangerous Book and a trilogy of novels about the early church: The Wrong Messiah, The Longest Week and Kingdom of Fools. His Furry Freedom Fighters is a comic book series for kids about super-powered pets.

Andy Robb: Writer, cartoonist and creator of the Boring Bible and the 50 weirdest, craziest and wildest Bible stories series for children. His latest creation, Derek the Cleric invites adults into the equally weird, crazy and wild world of his invented – but strangely real and disturbingly recognisable, parish church of St Cliff's.
October 3rd, 2012 - Posted & Written by Les Ellison