A Catholic charity has distributed 250,000 rosaries to the people of Cuba to mark the first papal visit to the country in 14 years, and Pope Benedict's first trip there.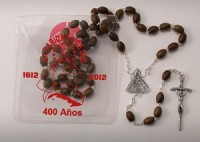 Action for Churches in Need (ACN) distributed 250,000 leaflets explaining how to pray the rosary, 15,000 children's rosary booklets and 10,000 'Prayer Boxes' containing a rosary ring, a small bottle of holy water, a small a pocket crucifix and basic prayers.
ACN operate in around 130 countries worldwide where believers are oppressed, persecuted or in need of pastoral support. Cuba is a priority for the charity, where the church has faced decades of oppression due to Fidel Castro's communist rule.
Ulrich Kny, co-ordinator of Latin American efforts on behalf of ACN said: "during the 1960's, Fidel Castro's regime seized Catholic churches, schools, hospitals and other buildings and expelled hundreds of priests and believers.
"The Cuban Church still suffers from the consequences of this painful experience. For this reason, Cuba remains a priority for ACN."
The Pope's visit marks the 400th anniversary of the discovery of the statue of the Virgin of Charity, Cuba's patron saint. A small wooden figure, known as Our Lady of Charity of Cobre was found in 1612 by three young men, looking for salt in the Bay of Nipe in the north-east of the country, and taken to Cobre. She has been honoured ever since.
It is hoped that pontiff's visit will help revive Catholicism in Cuba where much of the population were left largely secular, atheist or indifferent to religion after more than a half a century of communist rule.
March 27th, 2012 - Posted & Written by Riyaza Rodriguez