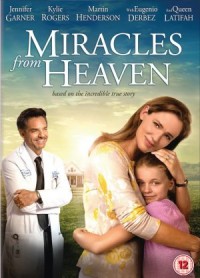 The Christian Film Review share their thoughts on new film, Miracles from Heaven:
Miracles From Heaven is based on the incredible and emotional true story of the Beam Family.
The film follows Christy Beam and her family as her 10 year old daughter Anna contracts a rare incurable disease. Christy does everything she can to find a solution to heal Anna, going through various doctors and finally getting to see one of the best who cannot help her daughter. This tests the family's faith in God as they come against the unkindness of people in Church. However this true story doesn't finish there, Anna has a 'freak' accident, falling three stories that requires a dramatic rescue as a miracle unfolds that leaves the medical specialists speechless.
Miracles From Heaven is well produced and directed and alongside the true story and some fantastic acting makes this a very compelling film to watch.
This film is one of Jennifer Garner's most noteworthy performances as she excels as Christy Beam. Kylie Rogers who plays Anna Beam also delivers an outstanding performance, with both actors together they deliver roles that believable and real, so much so that you feel their pain, they bring so much emotion that you just can't help but feel and know what they are going through, they really carry the film, and take us as the audience along with them.
Miracles From Heaven is full of touching and emotional moments and one that stands out is where Anna makes friends with another girl in hospital and shares about Jesus with her, this girls father is not pleased but we see that he changes after seeing a difference in his daughter, who receives hope even though she is dying. A lot of people will be able to relate to the issues in this film and may even share a similar experience as Christy and Anna have and this film should be an encouragement to them, to keep hoping, to keep holding on, to keep praying and to never lose faith.
Miracles From Heaven is an emotional film but it's also inspiring and uplifting. With a message that isn't preachy this is a film that everyone can enjoy whilst knowing that this is a true story and miracles do happen and ultimately this film could prompt someone to find out more about faith in Jesus and encourage those facing difficult circumstances to know there is a greater hope.
October 21st, 2016 - Posted & Written by Laura White