If you had breath for no more than 99 words what would they be?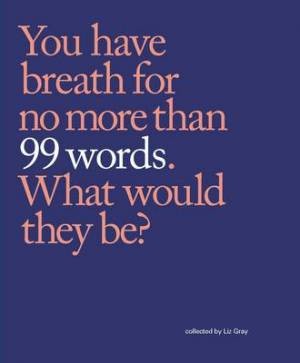 This was the question that one woman has been asking for the past seven years. Liz Gray was forced to give up her much-loved profession after a serious injury left her for a while unable to speak, write or read comfortably for more than a few minutes at a time.
Her request for 99 "last words" struck a chord with everyone from poets to scientists. Now, Liz's book 99 Words, published this week, contains words from Nelson Mandela, Yoko Ono and Desmond Tutu.
Originally Liz decided to collect 99 words from 99 people, but a few late editions has taken the number to just over 100. However, sticking with the 99 theme, 99p from each book sale will be donated towards supporting the life-saving work of Peace Direct in 11 war zones, from Afghanistan to Zimbabwe.
Speaking about the release, Liz said: "This is a very personal anthology, but at the same time I'm hoping that the book will be a gift for anyone else who finds themselves, for whatever reason, lost for the words they need."
Buy the book to read contributions from Rabbis, world leaders and novelists. Click the comment box below to add your own 99 words...
September 26th, 2012 - Posted & Written by Sam Hailes