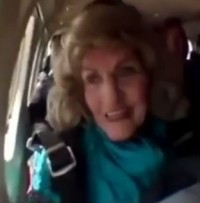 A skydiving granny who almost slipped out of her harness on a tandem freefall - is a great demonstration of the need for faith.
When 80-year-old Californian Laverne Everett decided to celebrate her four-score years with a 'once in a lifetime' experience - she didnt count on getting a last minute attack of the nerves.
As the grandmother prepared to jump into thin air, she began to regret her decision, and frantically tried to claw her way back into the aircraft.
As a result she ended up bent double and began to slip out of her parachute harness - placing her in a potentially lethal situation.
Fortunately for all concerned, the octogenarian managed to make it home safely, and later told reporters that she hadnt realised what was happened, until she saw the video.
But for all people of faith, its a timely reminder, trust in God even in the face of terrible danger, trying to struggle against him will only make things harder.
June 22nd, 2012 - Posted & Written by Simon Cross