When you love the Bible you want to make it beautiful, you want to make it personal and you want everyone to know what it means to you. That's exactly what Bill and Gloria have done with their Gaither Homecoming Bible due for release in the UK in a matter of a few weeks from now.
The Bible for where the Scriptures hit the road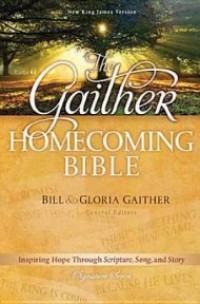 'Honestly, it wasn't our idea,' says Gloria Gaither. Speaking about how Thomas Nelson's approached Bill and Gloria with an idea for a Bible to serve followers of their revival style gospel music, Gloria recalls, 'First we said: "We're not theologians." And all the Homecoming artists said: "Well we can't write a commentary on the Bible." And then we got together and listened to what they all had in mind, and it was just regular people telling where scripture hits the road… telling the truth. I think there's power in that.'

Of course, for Bill and Gloria, The Word itself must be first and foremost. Using the beautifully readable New King James Version (NKJV), the Gaithers' Bible shows its direct heritage to the King James (KJV) of 1611. Exceptionally well printed in solid text and a 'font size' of 11 points, the Gaithers have created a 'large print' Bible in a two-column style that makes every word plain, and every line easy to follow. Even the footnotes are simple to find, read and relate to the verses.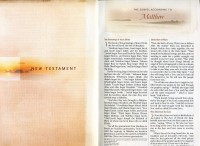 This is a commentary Bible of a most unusual and helpful kind. Thoughts from the wisest and most experienced of Christian teachers and preachers are presented alongside personal reflections and recollections from Homecoming artists. This blend of wisdom and artistry gives breadth and depth to the Gospel message in theory, in music and in real, practical living.
A Bible that's a delight to open and read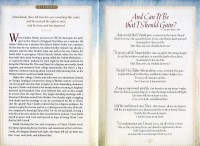 As every Bible should be, this Bible is a delight to open. Printed in lively colour, there are memorable and selected texts in stand-out panels. There are whole page poems with decorated borders in the quality you'd expect of a framed mount. There are full colour pictures of the contributors and the Bible text itself is highlighted with dramatic landscapes, pastel floral images or glowing sky and seascapes demonstrating the glory of God's creation.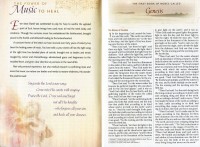 For the bedside or coffee table, there are few Bibles so inviting just to pick up and leaf through or read in depth. As a gift, especially for followers of Gaither Homecoming gospel music, there are few Bibles likely to be so well received. This Bible sets a new standard in themed, gift and presentation Bibles - especially for anyone whose music is connected to their faith, their faith to their life and whose life is built on their Bible.
A new way to enjoy your Commentary Bible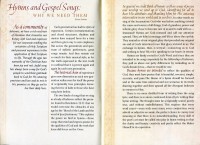 - Fresh perspectives on the words of best loved hymns and songs
- Testimonies and devotions from Homecoming artists
- Gaither music favourites in the new light of the NKJV Bible text
- Encouragement and testimony from the giants of the faith
- Refreshment and beauty in the New King James translation

Pre-order your Gaither Homecoming Bible. Click on the highlighted text below and go straight to the Eden Gaither Homecoming Bible page for more information on this most beautiful Bible and early delivery of your Gaither Homecoming Bible.


October 21st, 2012 - Posted & Written by Les Ellison