Having delighted fans at The Big Church Day Out in 2010, Aussie and American rockers, Newsboys, were invited back for a second year. We caught up with them just after their performance to find out what they'd been up to over the last twelve months.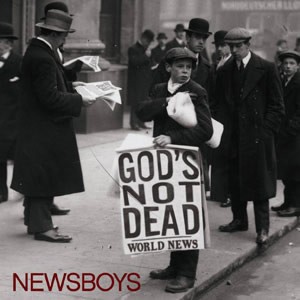 Heavy touring
"Touring pretty heavy," says Michael Tait. The lead singer is still best known for his time in DC Talk but has been fronting Newsboys since 2009. The band has got through three lead singers in their 20 year history. "Hopefully the third is the last," Michael jokes, adding, "Newsboys is bigger than the sum of its parts and that's why it survives through lead singers."
Describing recent months as "exhausting but very successful," the band enjoyed a rare holiday before embarking on their ten day tour of Europe.
"When we're touring the States we do 90% of it by bus," keyboard player and band director, Jeff Frankenstein, says. "There's 14 of us in that bus at the same time sleeping at night. So you get to know one another really well, the good the bad and the ugly. There's no such thing as privacy. It's like a family, it's not always perfect. You have your arguments from time to time but it's good."
It's not exactly your average office job. But the band seem content. "If we were in four separate buses as divas that's where the trouble is. In some strange way you could say that's how the disciples were. They travelled together, they probably didn't get along all the time, they saw great things happen and bad things happen but they were walking the journey together. It's like you get to have a job and a family at the same time on the road. So we're fortunate to have that."
Known in the US for their shows that often fill entire stadiums and contain everything from pyrotechnics to stages that rise and fall, I ask when UK fans can expect to see such a spectacle. "We'd love to bring it all," drummer Duncan Phillips replies. "But it would take a month or so to get it all over here and the cost becomes astronomical."
"Not if you did a full tour," I tease. "Maybe. Keep talking like that!" Michael encourages.
An evolving sound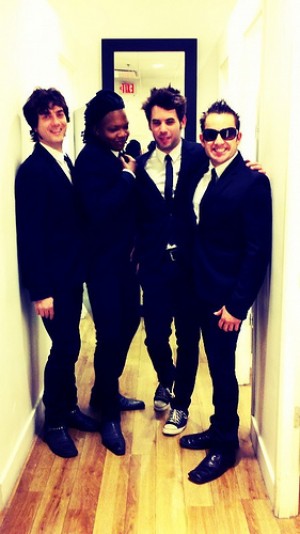 The band are aware of the difficulties of changing lead singer. The core band has remained unchanged for most of the past 20 years resulting in a fairly distinctive sound that has remained constant yet also (paradoxically) has evolved.
"…but you have to be aware of what's going on around you, not to become the fad because when the fad dies you will too. But I think with Michael what he's brought is another dimension to Newboys that we may not have explored in the past. We've had the opportunity to explore musical avenues we haven't done before," Duncan says.
"The last two records have been very exciting. You don't want to go too far out of the box because your fans have been with you for years and they'll say, 'What happened to my band?' But you don't want to keep making the same record, that's wrong too. So you've got to keep on moving."
Their latest album God's Not Dead was a bold title. Duncan talks about it as "drawing a line in the sand".
"We didn't want to get partisan or sectarian about it, but our culture in general is pointing the other way for the most part, and with God's Not Dead it's like, 'That's your opinion but we have an opinion too'. Here's the line in the sand: we believe God is not dead. It's not just for old women and little children, he's viable and he's roaring like a lion and living in the hearts of believers today. It's one of those titles where either you love it or you hate it."
It's like you get to have a job and a family at the same time on the road. So we're fortunate to have that
On somewhat of a roll and speaking quickly, Duncan continues, "I think it takes more guts to stand up as a Christian and have faith in something bigger than yourself than it does to say, 'It's all about me, I'm my own God. I'm the director of my own life.'" Egging him on from sidelines, Tait says, "Preach it brother!"
"A lot of people in the US call themselves Christians but they're not really," Duncan says.
"It was a culture built on the foundation of Christianity, so I think a lot of people have some kind of inkling of what it's about. But because of hurts people have had over the years they've said, 'If that's what church is like, I don't want it.' But the problem is that's not the heart of God. They are not responding to the heart of God."
'We make music for the masses'
The Newsboys are unashamed of their faith and it comes through loud and clear in their music and in their interview. At the same time they appear both puzzled and disgruntled by the secular media's view of them.
"We tend to get ostracised in the states; for instance by record stores," Michael says. "Courtney Love and Tina Turner are Buddhists but we don't file them under 'Buddhist rock' in the stores. You file us under 'Christian rock' in the stores. Why that is, I'm not sure. We make music for the masses."
He's viable and he's roaring like a lion and living in the hearts of believers today.
Duncan points out that in the US, some of the biggest events and organisations including Disney World put on "Christian days" where Christian bands play at secular events.
"It's the biggest day of the whole season – the Christian day. So they love it."
The band may not always enjoy being labeled Christian rock, but it's possible - and perhaps even likely, their sales would drop if they weren't marketed in that way.
The Christian music debate aside, it's clear the Newsboys are one of the most popular bands in their genre today. Both years' performances at The Big Church Day Out have helped cement this reputation as they continue to turn out top quality music in both studio and live settings.
July 23rd, 2012 - Posted & Written by Sam Hailes