'We're on a mission from God' the classic line from the cult 1980s film 'The Blues Brothers' has found favour in an unlikely place – the Vatican.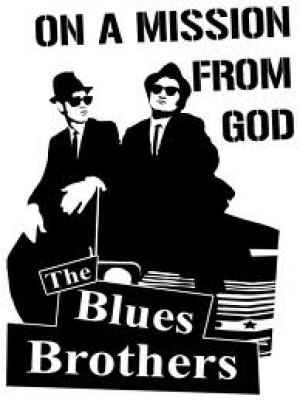 Despite being about the antics of an armed robber and starring a man who died from a drug overdose – the 1980s comedy film has been lauded by L'Osservatore Romano as a 'modern classic'.
The newspaper featured a front page photograph of the two stars of the film, John Belushi and Dan Akroyd wearing their trademark fedoras and dark glasses, with an article praising the film for its creativity, as it is shown in Italy as part of the celebrations surrounding the 30th anniversary of Belushi's death.
The Blues Brothers is a riotous comedy in which brothers Jake and Elwood Blues, while being pursued by police, undertake a 'mission from God' to save the Catholic orphanage in which they were brought up, by reforming their band.
The mission begins when Jake and Elwood visit an evangelical church, where Jake receives what he believes to be a divine message concerning the way to save the orphanage. The brothers must reform their band, and play a gig to earn the necessary cash.
But as they set out, they are stopped by police who discover they are driving illegally – before being arrested though, they speed off, and begin a destruction filled romp where they try to locate their former band mates.
The story draws in a variety of musical legends, including James Brown, Cab Calloway, Ray Charles and Aretha Franklin, and a host of comedy characters including a homicidal Country and Western band.
Sadly Belushi died aged only 33, after being injected with a 'Speedball' mixture of Heroin and Cocaine.
A friend was later jailed, after being found guilty of involuntary manslaughter, for giving him the fatal injection. Belushi was buried according to Albanian Orthodox traditions.
L'Osservatore Romano is not known for this kind of levity, and the story was next to a more representative article giving the text of a speech on relations between the Holy See and Finland.
No mention was made of the Christian messages in the film, nor was there any reference to Belushi's sad demise, but it was labelled a 'Catholic classic'.
July 3rd, 2012 - Posted & Written by Simon Cross