"It's been an eternity", "I'm eternally grateful". Eternity comes up all the time, without much thought about what it actually means. For many, when they talk about eternity in the sense of 'eternal life', it's just something that happens after we die. But, bestselling author and senior pastor, John Ortberg wants us to engage with eternity, now, recognising that Jesus defines 'eternal life' only once, with great precision, and in a way that has been largely lost today.
In his new book, Eternity Is Now in Session, John Ortberg dispels the myth that eternal life is something way out in outer space that we can only hope to experience after we die - and that being saved is merely about meeting the minimal entrance requirements for getting into heaven.
Instead, he digs deep into Jesus' definition and unpacks the key questions that this poses:
What if we stopped thinking about eternal life as something we can only experience after we die?
What if we stopped thinking of Christians as people who profess beliefs about God, and instead focused on becoming disciples who know God.
What if salvation isn't mostly about getting you into heaven, but about getting heaven into you?

Alongside the book he has also produced a series of resources including a 'DVD experience' which explores, over 5 sessions, exactly what it means to be 'saved'. Ideal for small groups this study is a radical rediscovery of what Jesus really taught about salvation, eternity, and getting to the good place. The DVD is accompanied by a participant guide.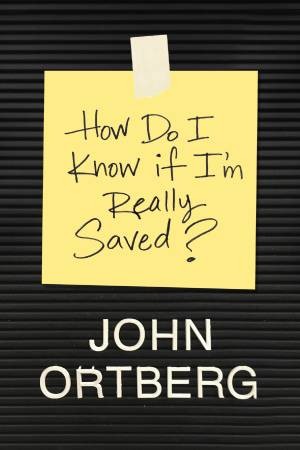 Determined to help others get the answers they need to the big questions of eternal life: How Do I Know If I'm Really Saved? is a small book that packs a huge punch! Within the pages of this booklet, John Ortberg:


Dispels the myth that eternal life is something we can only hope to experience after we die,
Recaptures the New Testament definition of salvation, eternal life, and the Good News of the Gospel, and
Explains what it really means to be a disciple.

This apologetic reading is an ideal giveaway for evangelistic events.

Eternity is Now in Session is available now.

Do you have a favourite John Ortberg book? Find out if it made our top 10.
September 11th, 2018 - Posted & Written by Laura White