We look at God is Stranger, the new book from Krish Kandiah, and the unique challenge that he lays down in it.

What if….
You know that every time you hear those two words, something will follow that is certain to transform everything you thought you knew. What if the Earth revolved around the sun? What if the universe was composed of specks of matter so small, even the most powerful of microscopes cannot even see them?
'What if' is a short road to big idea, and it that short road which leads us to Krish Kandiah's new book, God is Stranger:
"What if, precisely because we think we know God, we don't know him at all?"
"What if God is deliberately strange?"
In his new book, Krish flips upside-down not only our idea of God, but the very fact that we can have an idea of God. He describes it as like trying to hold the immense volume of Niagara Falls in a teacup. Impossible, and yet we still think we can do it. Time and time again in the Bible, God does things that are weird, that make no sense, and are "out of character". Flooding the earth, making an army march in circles around a city, asking an old man to sacrifice his only son. Nothing God asks makes sense.
"Well, of course God is elusive", you might say, "but what does that have to do with following him?"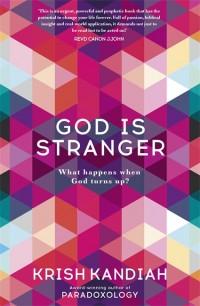 God is Stranger is not about knowing God. It's been pretty firmly established that it's an impossible task. We can hold a little of God, yes, but measure for measure that amount is a speck. Practically nothing.
Our purpose is to know nothing of God, and welcome him anyway.
In the New Testament, the writer of Hebrews champions the welcoming of strangers:
"Do not forget to show hospitality to strangers, for by so doing some people have shown hospitality to angels without knowing it." (Heb 13:2, NIV)
This works both ways:
When we welcome a stranger, we welcome God - When we welcome God, we welcome a stranger.
Welcoming a strangers is exactly what we do when we follow God. It is a spirit that is in the very fabric of the Bible. Men and women welcomed God without really knowing Him at all. They followed the instructions that made no sense, and Jesus lived out the very ethos of welcoming strangers. He dines with the lowest, draws alongside the despised, and looks beyond the visage of the rejected.
Be warned, this is not a benign gesture. Welcoming strangers is a bold act, and one that Krish shows is sorely lacking in the world today. God is Stranger lays down a revolutionary challenge. It is a strong response for everyone who claims to welcome God. We must wrestle with accepting God the stranger, as well as what that means for all the other strangers in the world today: the tired, the poor, the huddled masses yearning to breathe free. You see them in the news, you hear them used by politicians to forward a point, but will you welcome those strangers as you did with God?
What if, in welcoming a stranger God, our lives take on a whole new meaning?
What if?
Want to know more of what inspired Krish to write God is Stranger? Check out the new trailer for Krish's new book below: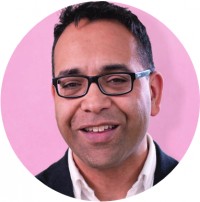 Krish is the Founding Director of Home for Good, a young charity seeking to make a real difference in the lives of vulnerable children. Together with his wife, Miriam he co-authored a catalytic book "Home for Good" which blends the Bible's teaching on God's heart for vulnerable children and inspiring practical stories. Krish has authored 11 books including the award winning publication 'Paradoxology', explores why Christianity was never meant to be simple.
His new book, God is Stranger, can be ordered here.

June 13th, 2017 - Posted & Written by Aaron Lewendon