How will it all end?
Realms of Glory is the final instalment in the Lindchester Chronicles from Catherine Fox, the bestselling author of Acts and Omissions.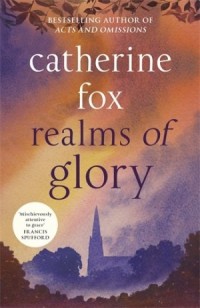 Set in the fictional Midlands Diocese of Lindchester, Realms of Glory guides the reader through the tumultuous twists and turns of 2016.
Acting as the narrator, Catherine Fox leads the reader through a cast of nearly 50 residents as they negotiate news of celebrity deaths, unexpected election results and tragic attacks, as well as their everyday lives: new relationships, new schools, family dramas, grief and of course, ordinations!
There's Freddie, the troubled chorister running from his past; Jane, who's not quite sure she fits in her new role as Mrs Bishop and Dominic, the rector who just wants what best for his aging mum, no matter what. Amongst the rabble (and I really hope I'll be forgiven by Catherine for referring to her beloved characters as such), I'm sure every reader will find characteristics, redeeming or otherwise, to relate to.
The sheer volume of characters can be confusing, I found myself regularly flicking back to the "dramatis personae" at the opening of the book to remind myself exactly who was who and how they were all connected. Think of it as the Love Actually of the Anglican fiction world, perhaps with fewer polo necks!
You'll also need to wise up on your Anglican terminology and make sure you know your cassock from your chorister and your Canon from your Curate. I'll admit, having been bought up low Anglican, some of the traditions and Latin went right over my head. But it was a fascinating insight into the everyday life of the church.
For many, 2016 was a year they would rather not repeat, so it felt strange reliving it - the reminder of just how much tragedy was packed into one year, both personal and international was at times harrowing and whilst the Referendum build up was faced with good-humour it was clear exactly which way the author would have liked the votes to go.
However, amongst the sadness and despair, Realms of Glory provides glimpses of light-relief, humour and hope. In fact, at risk of shoehorning in another Love Actually reference, the closing chapter reminds us, that it's love, actually that keeps us going:
"Love, thinks Miss Blatherwick. That's all. Love
Cheering. And there's Great Tom tolling out. Love. Love. Love"
August 15th, 2017 - Posted & Written by Laura White