Unstoppable, Nick Vujicic, took the stage at Oprah's 'Lifeclass' chat show giving a literally 'step by step' testimony of his life and faith.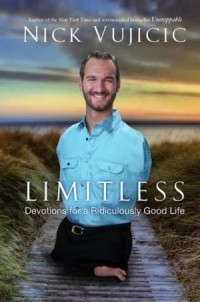 Winning With the Hand You're Dealt
In January this year, the world's best loved chat show host, Oprah Winnfrey, held one of her Lifeclass sessions at Houston's Hobby Centre.
Billed as 'The World's Biggest Classroom' she was joined by Rick Warren, best-selling author of The Purpose Driven Life, in a discussion on how to live with and maximise 'the hand you're dealt'.
Harassed and Tormented at School
Introduced by Oprah Winnfrey as one of the best examples of wining with the had you're dealt, she rolled Nick Vujicic introductory videotape.
The tape, a family video, showed an Australian born, beautiful, blonde haired child; but a child without arms and legs. For years this bright clever child was harassed and tormented at school, and at ten he contemplated suicide. Normal life seemed a world away from the young Nick Vujicic.
Finding the Power to Take Control
After years of feeling worthless and alone, Nick's awakening came while reading an article about a disabled man who refused to let physical limitations hold him back. Nick resolved to find the power to take control of his life. And he did just that.

Even the worst parts of your life can come together for good."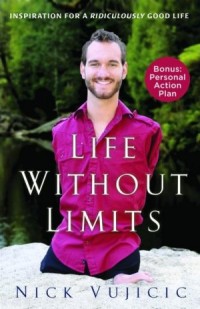 Now he surfs, snorkels and plays soccer and travels the world giving inspirational talks and lectures affirming the part that his Christian faith has played in his life.
The video ends with scenes from the previous year's life changing event for Nick; his marriage to the love of his life and of his wedding, where he danced with his new bride.
Born Without Arms and Legs
"This is what's so unbelievable," comments Oprah, "you've heard people complain about the spots on their face, about not being able to have a boy friend… is that you've been able to take your chemistry; being born with no arms and legs; your relationships; your consciousness and your life circumstances."
Then she asks: "What makes you choose what you were going to do with all that - which the world looks at and undeniably sees as a pretty bad hand?" What follows is Nick's practical demonstration of his determination, strength of character, and faith.
"All things come together for those that love him."


Then, from his place in the audience, Nick virtually bounded toward the stage until he reached the stairs leading to Oprah's rostrum mounted desk: each step about a quarter of Nick's total height. Stating that everyone is beautiful just the way they are, Nick proved his mantra that 'all things come together for those that love him'.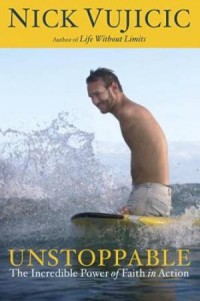 Do Your Best and Let God Do the Rest
Jumping the steps one at time, Nick insisted that it's all about choice. He had parents who told him it was better to "be thankful for what you have and not to be angry for what you don't; to do your best and let God do the rest."
It's a lie to think that you're not good enough..."
It was because he'd given his life and the renewing of his mind to Christ, Nick told the packed studio audience, that he knew he'd be unstoppable. With that and a final leap of courage and faith, he took the top step and crossed the stage.
"It's a lie", declared the author of Unstoppable, Life Without Limits and the daily devotional Limitless, "to think that you're not good enough, it's a lie to think that you're not worth anything…"
For the whole inspirational story to date, click this link to find Books and Resources by the unstoppable Nick Vujicic.
June 2nd, 2013 - Posted & Written by Les Ellison