Joni and Ken Eareckson Tada's latest book Joni and Ken has been a huge hit, packed full of wisdom for creating and nurturing a marriage through the good times and the very worst of times. We had the privileged opportunity to ask Joni some questions about the book and were excited to receive her answers giving insight into the book and its authors.
Joni and Ken documents their marriage and the advice and wisdom for other married couples seeking to build a strong and lasting relationship centred on Christ. As it's a book about their relationship it made sense to find out the background of how they met, the proposal story (I'm a girl so I love hearing about proposals!) and what they have learnt through their marriage.
How did you and Ken first meet?
I was in my early 30s, and pretty much resolved to my happy single life. All that changed one Sunday morning when I was sitting in church – the guest speaker wasn't very interesting, so to bide time, I started praying for the back of this man's head who was sitting five or six pews in front of me.
I didn't know his name; couldn't see his face. But I felt strangely compelled to pray for him.
A few months later, I happened to be introduced to the same man (through friends who, I realized later, were trying to "match" us up). The first thing I said to Ken Tada was, "Turn around and let me see the back of your head!" It was an odd introduction, but it sparked a growing friendship.
Can you tell us about your first date?
Ken took me to a fancy restaurant by the marina, and I was so nervous as we were dining, I kept asking him to give me sips of water. Halfway through our meal, I realized that was the wrong thing to be doing – my leg bag was beginning to 'fill up!' I had to ask him to help me to the restroom. But as we sat in the restroom alcove, I said "I'm not going into the men's room," to which Ken replied, "Well, I'm not going into the ladies' room."
So as my husband often jokes to this day, "We went outside and watered a tree." What could have been an embarrassing, awkward situation became very humorous – I liked that about Ken, and our friendship grew from there.
How did Ken propose to you?
He took me in a rowboat out onto Lake George in the Sierra Mountains. It was quiet and the snow-crested mountains around us soared to the sky.
The boat turned, Ken's head eclipsed the afternoon sun, and he popped the question – I took one look at him with golden rays streaming from behind him, and was enthralled. I said yes!
Having been married for many years what advice would you give for building a strong marriage?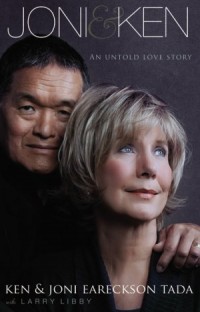 My husband and I keep reminding ourselves that my disability is not 'the enemy;' for that matter, neither he nor I are the enemy! The devil is. And he would love nothing more than to destroy Christian marriages and drive wedges between husbands and wives.
So Ken and I keep perspective by reading the Bible together (this is the 7th year we'll be reading through the Bible in a year), and by praying together – whether we drive in the car, or at home relaxing, or on the way to or from an appointment. We realize we are in a fierce spiritual battle, and prayer and Bible reading help us keep our spiritual antennae on alert!

Next week we'll be posting part two of the interview. Joni reveals how the book was conceived, the challenges on writing a personal book on marriage and her favourite passage of Scripture.
May 12th, 2013 - Posted & Written by Anna Hockley