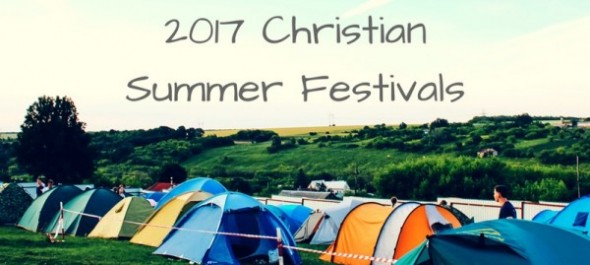 Our indispensable guide to the summer's most exciting and inspirational festivals and conferences.
The Sun is shining (for now anyway), schools are out and summer is here and with it comes a wealth of Christian conferences and festivals for all the family. If you haven't booked a ticket yet, check out our guide to what's going on around the UK.
Keswick Convention: Hearing, Becoming, Serving
Deep in the heart of the beautiful Lake District, this perennial Bible week is always popular, and boasts serious teaching in its own convention centre. There are three weeks to choose from, the speakers may change, but the views remain the same.

Featured artists/speakers: Don Carson, Alistair Begg, Tim Chester, Andy Bannister and many more which can be found in the full programme.
Week 1:15th - 21st July
Week 2: 22nd -28th July
Week 3: 29th July - 4th August
New Wine: United 2017
It started off as an Anglican affair, but soon branched out, and now all kinds of people head to a New Wine celebration each summer. The two weeks take place in sunny Shepton Mallet.

Featured artists/speakers: R.T. Kendall, Pete Greig, Miriam Swaffield, Rachel Gardener, Simon Ponsonby
Week 1 full speakers list. Week 2 full speakers list.
Week 1: 22nd - 28th July
Week 2: 30th July - 5th August
Booking for the full weeks has now closed but day tickets are available at the gate.
Soul Survivor
Word of mouth suggests that wherever you are in the world, you're never very far from a Soul Survivor event. The popular youth camp has spread across the globe, and, spread over three weeks, it remains a firm fixture on the UK summer circuit. 2017 sees Weeks B & Cin a new southern venue of Peterborough!

Featured artists/speakers: Mike Pilavachi, Andy Croft, Guvna B, Chris Curtis, Rend Collective, Beth Croft and plenty more!
More information here.
Week A: Stafford - 28th July - 1st August
Scotland: Kinross - 5th - 9th August
Week B: Peterborough - 19th - 23rd August (closed to group bookings)
Week C: Peterborough - 25th - 29th August
Naturally Supernatural
Naturally Supernatural is a brand new event, from the team behind Soul Survivor, aimed at anyone who wants to move in the ministry and the power of the Holy Spirit.
Stafford Showground: 22nd - 27th July
Featured artists/speakers: Mike Pilavachi, Ali Martin, Andy Croft, Tim Ross, Mark Marx, David Westlake and worship from Beth Croft and more.
Naturally Supernatural will run instead of Momentum. More information here.
Creation Fest
Creation Fest offers something for everyone: Music, Bible, Skate, and Family all in the beautiful Cornwall. Creation Fest is FREE to attend, simply turn up and enjoy!
Royal Cornwall Events Centre, Wadebridge: 5th - 11th August
Featured artists/speakers: Andy Bannister, Justin Brierley, Gavin Calver and more. Full speaker details here.
David's Tent
David's Tent is a 72-hour Christian worship festival hosted on the Wiston Estate in the West Sussex, England. The 3-day gathering features international and local musicians leading non-stop worship, onsite camping, break-out sessions with guest speakers – plus fellowship, picnicking, prophetic art, and lots more!
Wiston Estate, West Sussex - 25th - 28th August
Featured artists/speakers: Steffany Gretzinger, Jonathan & Melissa Hesler, Jeremy Riddle and more. Full details here.
Greenbelt - The Common Good
Without a doubt the most famous Christian arts festival in the UK. Greenbelt has a reputation for provocative speakers and top rated musicians. They provide a full programme for the whole family, a relaxed 'festy' vibe.
Boughton House, Kettering: 25th - 28th August
Featured artists/speakers: Dave Tomlinson, Kate Rusby, Malcolm Guite, Newton Faulkner and so many more. Full lineup here.
One - All In
Otherwise called, "the festival formerly known as grapevine!" A Christian festival for all the family.
Lincolnshire Showground - 25th - 29th August
Featured artists/speakers: Glyn and Sophia Barrett, Gavin Calver, Stuart Bell and more. Details here.
Rocknations - Seek First
Rocknations takes place at Life Church in Bradford and is for young people and their leaders.
Conference one: 7th - 9th August
Conference two: 10th - 12th August
Featured artists/speakers: Guvna B, Peter & Louise Toggs from Hillsong Young and free and more. Further details here.
Faith Camp
Faith Camp is an action-packed, fun-filled week for all the family at the Peterborough Arena. Faith Camp has a full-on afternoon seminar programme as well as morning and evening preaching & teaching. There's something for all the family including 5 groups for 0s-18s.
Peterborough - 29th July - 5th August
Featured speakers/artists: Colin Urquhart, Karen Wheaton, and more.
Further details here.
These are only some of the fantastic events going on this summer – there are many others, if you're going to one we've missed – please add it in the comments below. And don't forget you can order talks from Christian conferences across the country, some of which even date as far back as 50 years ago from our Talks department.

Got your ticket and ready to go? Check out our "festival essentials" packing guide.
July 18th, 2017 - Posted & Written by Laura White