Now celebrating its 40th anniversary with more than 40 million copies sold, The Living Bible continues to 'live' on.
The Birth of Something New
Struggling in his family devotions Kenneth Taylor found it difficult to communicate the message from the Bible using the King James Version. He found himself paraphasing passages to make the meaning clearer for the children. The Living Bible was subsequently born out of this desire to communicate scripture clearly and simply to his family.
It suddenly occurred to me one afternoon that I should write out the reading for that evening thought by thought, rather than doing it on the spot during our devotional time. - Christianity Today, 1979.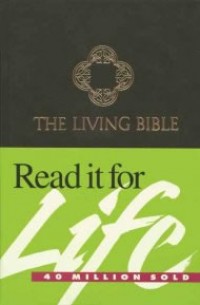 In 1956 he started to paraphrase the book of Romans and in 1962 Taylor self-published Living Letters – the New Testament before completing the rest of the Bible.
In the same year, Billy Graham was given a copy of Living Letters. He commissioned 50,000 copies to give away at his crusades. He loved it so much, the following year The Billy Graham Evangelistic Association went on to give out 600,000 copies! The Living Bible was also endorsed by other evangelistic organisations such as Youth for Christ and Young Life.
Based on the American Standard Version, Taylor took advice and help from other scholars. It quickly went on to become a huge success in the 70s as people were able to relate to and understand the Bible in a refreshing and accessible way.
Its purpose is to say as exactly as possible what the writers of the Scriptures meant and to say it simply, expanding where necessary for a clear understanding by the modern reader. - Taken from the preface of 'The Living Bible'.
How Did People Take It?
As previously mentioned The Living Bible was endorsed by many organisations but as with any translation it has faced criticism for unhelpful paraphrases and missing out information.
Taylor has also been accused of writing the scriptures to fit in with his Armenian theology on salvation and his thoughts on predestination. He was alleged to be "playing fast and loose with the Bible" but to some degree this could be said of any translation that modernises and re-phrases the original texts from the Hebrew and Greek.
The Living Bible was praised for the way it handled modern language and applied this to scripture. Speaking to a new generation of Bible readers it bridged the gap and opened people's eyes to the first major paraphrase.
For each new presentation of God's Word will find its circle, large or small, of those to whom it will minister strength and blessing. - Preface of 'The Living Bible
What Happened Next?
In the late 80s Kenneth Taylor brought together a group of 90 Hebrew and Greek scholars to start on a revision of The Living Bible. After years of translating, studying and sheer hard work The New Living Translation emerged in 1996.
The NLT has now been revised several times and seeks to marry accessible, easy to read text with Biblical accuracy. A Bible which has gone on to sell over 40 million copies cannot be ignored and will live on in its own right, standing by its revised and non-paraphrased counterpart the New Living Translation.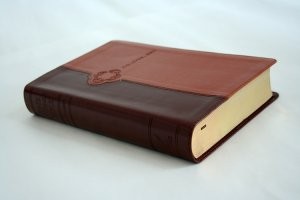 Currently The Living Bible is only available in a limited range of a Hardback Version and a Tutone Soft Back Version but it seems likely the well loved Living Bible is here to stay side by side with the New Living Translation.
Did You Know?
• In 1972 and 1973, The Living Bible was the best-selling book in America
• Kenneth Taylor was the father of 10 children
• All of the royalties from sales of The Living Bible were given to charity
• The Living Bible is now available in more than 100 languages
• Kenneth Taylor was the founder of Tyndale House Publishers
March 7th, 2013 - Posted & Written by Anna Hockley