A row has broken out over a new Bible translation, which uses Islamic names for Jesus, the prophets, and for God.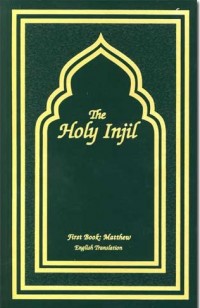 The translation, which is under development for Biblica, is called the Holy Injil. It is intended to be easily understood and read by Muslims.
It has been pioneered by Dr Viggo Olsen, a missionary who also translated the Bible into Bengali during the 1980s.
Dr Olsen, 85, has deliberately chosen to use Arabic terms for Jesus, God and other characters in Bible stories, because Muslims find the story of Jesus fascinating, but are often put off by the language of contemporary Bible translations.
But his ideas have not been universally well received, with some critics complaining that he was using 'false' Islamic names for God.
Examples of the changes he makes in his translations include the name 'Isa al-Massih' for 'Jesus the Messiah'; 'Allah' for 'God'; 'Ibrahim' for 'Abraham' and 'The Prophet Yahya' for 'John the Baptist'.
Some people complain that using the name 'Allah' to appeal to Muslims is the same as using 'Krishna' to appeal to Hindus.
But Dr Olsen, who served in Asia for more than 30 years, and who was compared to another famous Medical Missionary – Dr David Livingston, by the New York Times, isn't shaken by this.
He said: "There are more than 3,000 Muslim people groups, with many English speakers in them, so this Muslim-friendly New Testament we're working on has the possibility of blessing every Muslim group in the world. That may sound like an impossible dream, but God makes the impossible possible."
Make up your own mind:
Matthew 2:1–5
Now when 'Isa was born in Bethlehem of Judea in the days of Herod the king, behold, wise men from the east came to Jerusalem, saying, "Where is he who is born King of the Jews? For we saw his star in the east, and have come to worship him." When Herod the king heard it, he was troubled, and all Jerusalem with him. Gathering together all the chief priests and scribes of the people, he asked them where al-Masih would be born. They said to him, "In Bethlehem of Judea, for thus it is written through the prophet... (Copyright 2011 Ramah Books)

John 1:1-9
In the beginning was the Word, and the Word was with Allah, and the Word was Allah. The same was in the beginning with Allah. All things were made through him. Without him nothing was made that has been made. In him was life, and the life was the light of men. The light shines in the darkness, and the darkness hasn't overcome it. There came a man, sent from Allah, whose name was Yahya. The same came as a witness, that he might testify about the light, that all might believe through him. He was not the light, but was sent that he might testify about the light. The true light that enlightens everyone was coming into the world. (Copyright 2011 Ramah Books)
What do you think – is it ok to use the name 'Allah' for God? Is 'Isa' alright as a replacement for Jesus? Let us know your thoughts in the comments section…
July 16th, 2012 - Posted & Written by Simon Cross