Exploring the great British countryside is not only good for your health, it's a great way to connect (or reconnect) with your Creator too. So whether you're planning on dragging your kids to a distant campsite, up a mountain range or through the local woods – here are the Bibles that are up to joining you on your adventures.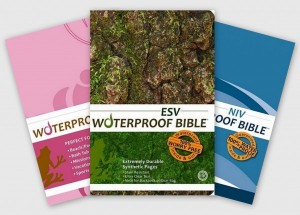 Yes, it really it is waterproof – we tested it in the office kitchen sink. In fact, it even floats!
With extremely durable synthetic pages, this Bible will tackle all-weather reading with ease. Stain resistant pages mean you can dry highlight, write and underline with no bleed-through to the page behind. Because the pages are sewn rather than glued, it can open flat; so you can keep your hands free for a torch or sandwiches. And despite being synthetic, there's no smell of plastic!
These Bibles include:
• 100% Waterproof Bibles
• Great choice for covers: blue, pink & camouflage
• Available in NIV, NLT, NKJV, KJV & ESV
• Ideal for reading beside the pool, on the beach, up a mountain, on mission, camping trips, boats and all outdoor expeditions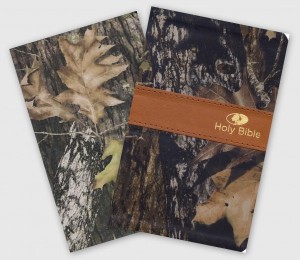 The American camouflage experts – Mossy Oak – are known throughout explorer circles for leading the way in their field.
Here's their effort to help you connect your love for the outdoors with your love for God's Word; but be warned, with their state-of-the-art camouflage covers be sure you remember where you last put it!
These Bibles give you:
• Special Mossy Oak presentation page & introduction
• Forward by Mossy Oak's CEO, Towey Haas
• Ribbon marker & words of Christ in red
• Available in Ultraslim or Large Print Editions in both NJKV & KJV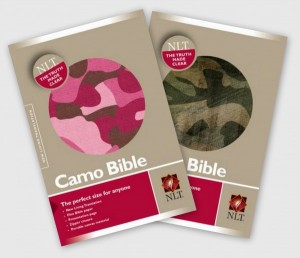 Small enough to fit in a coat pocket, the Camo Bible is a thoughtful and affordable gift for any young explorer. I just measured my jeans pocket, and it would easily in the front (and back too).
The camouflage canvas covers are both durable and flexible, making them ready to withstand whatever nature will throw at them. But best of all, these Bibles have zipper closures protecting the pages from crumpling or ripping. This is, hands down, the best Bible for summer camps, festivals and camping trips.
These Bibles give you:
• Made with genuine canvas material
• Pocket size: 175mm x 119mm
• Font size: 6pt, presentation page & zipper closure
• Available in Green & Pink Camo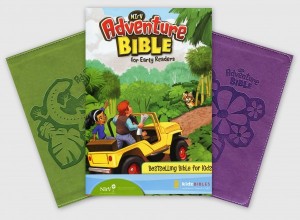 Take your 6-10s on an adventure through God's Word with this colourful and exciting Bible.
This last one isn't going to float, fit in your pocket or withstand the toils of the great outdoors. But it will get your kids into the Bible! After outdoor antics and getting covered in mud, kids will open up this book to discover that life's adventure is all about exploring with God and getting washed clean by his grace.
These Bibles include:
• Jungle/Safari theme throughout
• 20 pages of games, scavenger hunts and other activities
• Tons of child-focused content throughout
• Font size: 10pt, presentation page, book intros & concordance
• Available in Green & Purple imitation leather editions
April 12th, 2013 - Posted & Written by James Warwood