Because of Grácia is an exceptional pro-life teen drama that isn't afraid to tackle difficult daily issues that teenagers face today. It is inspiring, entertaining, humorous and a not to be missed film.
The film follows Chase Morgan, a quiet Christian teenager who loves to daydream, he has no real motivation. But everything changes when he meets new student Gracia. Gracia is a hit with everyone, intelligent, friendly and also a Christian. Gracia and Chase befriend each other and get to know each other well. At the same time we see another Christian student (a pastor's daughter), who is being tempted by her boyfriend to sleep with her, she becomes pregnant and struggles with her choices. Throughout the film the stories intertwine and through Gracia's boldness and morals the whole school is affected.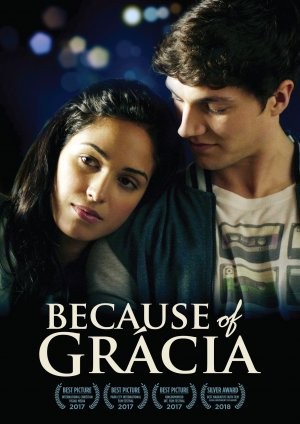 The storyline is fantastic and is really well written. The stories of the lives of each character feel real and typical, issues that teenagers face and in particular some issues that Christian teenagers face are boldly challenged and told. We see issues such as relationships, sex, abortion, drinking, evolution vs creation and even freedom of speech being tackled fantastically well without shying away from delivering a true, positive and life changing message.

Due to the issues tackled in this film, this is really for teenagers and above and can be a great catalyst to encourage teens and parents to talk to each other about the issues.

Moriah Peters who plays Gracia and Chris Massoglia who plays Chase both really carry the film along, bringing their characters to life and making them very relatable. Each character feels well written and real. It feels like getting a glimpse into the life of students every day.
Overall Because of Grácia is a brilliant film, that will relate to teenagers. It will inspire and encourage Christian teenagers and those facing difficult and tough choices. It will embolden Christians to stand up for their faith, to help them feel free to talk about their faith and it will also encourage others to open up and talk about the issues facing them.

This is one of the best Christian films aimed at teens and is a must see and not to be missed film. The film delivers so many great messages and isn't ashamed to highlight and tackle issues faced by today's teenagers.
Because of Gracia is available now.
The review originally appeared on The Christian Film Review
August 24th, 2018 - Posted & Written by Laura White