Every day this Advent we will be sharing reflections from Christian authors. Today's is by Amy Boucher Pye.

How do you mark the season leading up to Christmas? It can be a mad and crazy time of parties, shopping, church services and baking. So much so, that we lose the reason for the season, to use that slightly cringey American phrase.
One Advent, in my quest to consider the season's true meaning, I followed a Bible reading plan that moved from the Old Testament to the New as it revealed God's greatest gift, his Son Jesus. As I played around with the biblical text, moving words here and there, some poems emerged. If you like to write, maybe you could do something similar this year for an Advent practice. Of course, you may not like writing at all – in which case, I trust you'll find just the right thing to keep the gift of Jesus before you.
Here is my prose poem based on Deuteronomy 18:18: "I will raise up for them a prophet like you from among their fellow Israelites, and I will put my words in his mouth. He will tell them everything I command him."
You have raised up a prophet
One from the Israelites
One speaking their language
Your words in his mouth
Jesus, the one
Jesus, the prophet
Jesus, the Word
Jesus, embodying Your commands
Your prophet came
Born a babe
Humbled himself
That we might live
Be born today, Lord Jesus,
In my life and in my words
Your love through me; your love in me
Your gift to a hurting, longing world
© 2017 by Amy Boucher Pye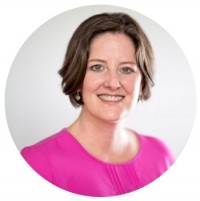 Amy Boucher Pye is the author of the award-winning Finding Myself in Britain and the BRF Lent book, The Living Cross. She has an MA in Christian spirituality from Heythrop College. Find her at amyboucherpye.com.
December 4th, 2017 - Posted & Written by The Editor