Every day this Advent we will be sharing reflections from Christian authors. Today's is by Rachel Gardner.

When I think about togetherness I think about closeness. The terrifying, wonderful, reframing state of closeness to another.
At the end of the summer our family got bigger as our one year old adopted son moved in. When he arrived, he wouldn't let go of us. His whole being was tuned into a profound desire to reach out and pull us close to him. Our older adopted daughter welcomed him with so much love and courage, but we could see that a little tsunami was going off inside her too. So we turned inwards for a while, wrapping each other in cuddles and kisses, making sure our children know in their gut and soul that being tiny, fragile and dependant on us is OK as we navigate this path and find our new togetherness.
I still find it terrifying to think that someone wants to be close to me. I quickly feel my lack, wondering what it is I have to do or be in this moment. Maybe this is one of the reasons that the Advent season is so precious for me. Maybe for you too.
As we tune into the story of Christ's birth, we receive into our beings the truth that the Almighty would become frail and easy to wound, like my little boy. That God would put himself in our arms and at our mercy because more than anything he longs to draw close to us and to draw us close to him. That's the invitation of God isn't it, to come to him with our failures and restlessness and find within the Trinity a perfect togetherness that welcomes us too.
'Are you tired? Worn out? Burned out on religion? Come to me. Get away with me and you'll recover your life. I'll show you how to take a real rest. Walk with me and work with me—watch how I do it. Learn the unforced rhythms of grace. I won't lay anything heavy or ill-fitting on you. Keep company with me and you'll learn to live freely and lightly.' Matthew 11:28-30 MSG
This Advent, as my son clings to me, I am choosing again to cling to Christ. I'm re-discovering the baby who's tender humanity makes my fragility the stuff of divinity. I'm finding again the man who drew close to people in their everyday, boring, fragile, quiet, hopeless moments. And as this happens, I know that God will be widening my circle, helping me to see who else needs to find togetherness with me, my family and with Christ this Christmas.
I'm looking forward to more people being round our table this Christmas. I'm praying that at least one of them can cook as I'm hopeless in the kitchen!
May Jesus be close with you in the ordinary moments of your life this Advent. May you hear his invitation to come close to him. May you dare to let his closeness do something extraordinary in you and through you.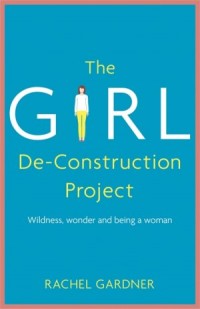 The Girl De-Construction Project by Rachel Gardner: Bestselling author Rachel Gardner takes a sledgehammer to the two-dimensional ideas that pop up in the church and the wider world around being young and being female. If Jesus is good news for women in every culture and every time, what does that good news look like for women today? This book is an attempt to speak to and about women with kindness, truth and sass. It's for Christian women of all ages, confident or questioning gender norms, who want to experience their femininity as powerful identity that they can define and re-define as they grow as disciples.
December 21st, 2018 - Posted & Written by The Editor