Every day this Advent we will be sharing reflections from Christian authors. Today's is by Andy Robb.

It should come as no surprise to you that as an author I am a lover of words.
For me, words are like seeds, carrying the potential to release so much more than just the sum total of the letters of which they are constructed.
At Christmas we are reminded of this truth in John 1:14.
'The Word became flesh and made his dwelling among us. We have seen his glory, the glory of the one and only Son, who came from the Father, full of grace and truth.'
Throughout the Bible we see God using words (and the Word) to bring to pass his plans and purposes. With their ears inclined towards heaven the Old Testament prophets spoke into being the intentions of God for humanity.
Jesus' birth was the result of many prophetic words which paved the way for his arrival.
But words don't originate in the mouth but in hearts and minds.
We speak out what we think and feel.
It's an amazing truth that God was thinking about you and me when he made the decision to send Jesus to save us.
Ephesians 1:4-5 'He chose us in him before the foundation of the world, that we should be holy and blameless before him. In love he predestined us for adoption to himself as sons through Jesus Christ, according to the purpose of his will.'
At Christmas we typically focus on God in the macro - the big picture of the redemption of humanity - but the passage from Ephesians reminds us that God is also very much interested in the micro - in our individual lives.
Through the season of Advent Christians prepare their hearts for a fresh revelation of Christ's birth and prophetic scripture is a key element of this.
This annual Advent reminder of God speaking into humanity about his Son is also an encouragement for us to incline our hearts to him for personal revelation.
Hearing from God is not just the preserve of the prophets of old. Jesus' coming not only made it possible for each of us to have a personal relationship with God but to have access to his heart; to hear from him.
This was how Jesus put it in John 10:27. 'My sheep hear my voice.'
At Revival Church Billericay, the church which my wife and I lead, we encourage our people to pursue the gift of prophecy, as did the apostle Paul. The world needs to hear God's heart and the prophetic is a wonderful way to connect a person to him. But prophecy is predicated on first hearing from God so it's something we all need to spend time learning to do.
In the light of this, can I encourage us over this Christmas season - when we are reminded of the word of God coming to fruition in the form of Jesus - to make time to increase in our capacity to hear from God. Feel free to email me via our church website of your stories of God speaking to you. I'd love to hear them.
With every blessing
Andy Robb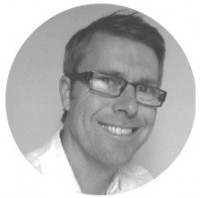 Derek the Cleric and the '50 Bible Stories' series.

When he's not busy writing and drawing he is also the co-lead of Revival Church Billericay alongside his wife, Jane.
December 18th, 2017 - Posted & Written by The Editor