Every day this Advent we will be sharing reflections from Christian authors. Today's is by Fiona Lloyd.

Peace and Goodwill to All?
When I was ten, my grandfather bought me a sewing machine for Christmas: one of those old-fashioned ones with black paint and swirly gold writing. It was the perfect present; all the more so because it was totally unexpected. I used it all the time until I graduated to an electronic machine in my twenties.
However, we had barely taken the decorations down that year when my grandfather died suddenly, from complications following a routine surgical procedure. Forty years later, I still miss him. And it's not just him: when our children were small, we regularly entertained an elderly lady from our church on Christmas Day. My parents could be guaranteed to turn up just in time for lunch. As I move towards Advent each year, I'm reminded of those who are no longer around to share it with me.
The shops have been gearing up for Christmas for weeks now, if not months. Turn on the television, and the adverts are relentlessly positive. It seems that if we can find the right Christmas jumper, and buy our food from a particular supermarket, then we are guaranteed to have the best Christmas ever. And if we're not careful, we get caught up in the pursuit of imagined perfection, and forget that for many, Christmas is a difficult time. It may be billed as the season of peace and goodwill to all, but people still struggle with illness, bereavement, redundancy, family breakdown and a whole host of other issues.
And yet we know – if we look beyond the sanitised version of the nativity story – that the world that Jesus was born into wasn't perfect, either. Political conflict, abject poverty and oppression, refugees being forced to flee for their lives: the backdrop to the Biblical narrative sounds surprisingly familiar.
Advent – quite rightly – has long been recognised as a time of hope and expectation. Sadly, the hope that the world offers is illusory, and will ultimately lead to frustration. The notion of Christmas perfection rings hollow when viewed alongside our hurts and disappointments. We need to remember that Jesus came not to do away with all of life's struggles, but to show that we could experience peace and joy in the midst of them. And herein lies the power of the Christmas story.
The challenge for us as Christians, then, is to consider how we can reflect the light of Christ. What does it mean to show "goodwill to all" in an era of Twitter spats and celebrity one-upmanship? How can we hold onto a sense of peace when the world is in turmoil? And how can we reach out to the broken and hurting in our society so that by sharing the love of Jesus is practical ways, we can point people towards the everlasting hope that we celebrate this Advent season?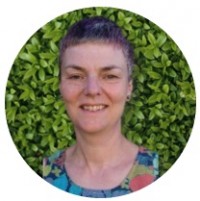 Fiona Lloyd is vice-chair of the Association of Christian Writers, and is married withthree grown-up children. Her first novel, The Diary of a (trying to be holy) Mum, willbe published by Instant Apostle in January 2018. You can find Fiona on Twitter at @FionaJLloyd.
December 14th, 2017 - Posted & Written by The Editor