I don't see how this can be topped. Recording an album is a huge technical feat in itself; recording a live album takes all that and puts it in real time. Now imagine doing that over a dozen times in a dozen countries. That is what went into Delerious?-frontman Martin Smith's newest album: Love Song for a City.
This is a dramatic album that leans heavily upon its scale and ambition. From the concept to the sound of Love Song For a City, there is a grandiosity that would never have worked in a studio album. You need the hear the drums and synth run out into the reaches and breaches of vast stadiums and arenas. Come Holy Spirit, the second track on the album, was recorded in San Diego and feels more like the narrative epics of Carman that a standard worship song. It's big, bold, and calls on God's Spirit in a huge way.
That's not to say this album is a rehash of 'The Champion' by Carman. This is a worship album, after all. Leap of Faith smoothly fits into the cannon of Martin Smith songs. Great choruses and long-held notes dominate the song and a message of surrendering to God mark out Leap of Faith as something you'd expect Delirious? to have knocked out in their heyday.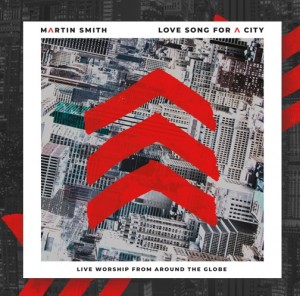 And of course, that is then followed by God's Great Dance Floor. And Waiting Here for You. Two absolute classics from the Martin Smith catalogues. Both of these gain something new from the renewed creativity in the wake of Martin Smith's other projects. God's Great Dance Floor especially. It's a party song, and all parties need people to dance, sing, and shout - all of this being in abundant supply from this recording in Singapore.
This mixing of new and classic, as well as showing that worship travels much further than most of us imagine, is handed impressively in the eighth song on the album, which transitions from an energetic new version of Emmanuel to a rousing chorus of Then Sings My Soul. Praise crosses barriers both of time and place. Wherever people are, there God is also. And this leads to the heart of the album, being where people are to be with God also. Cities are so often demonised as corrupting or dangerous when really they are crammed full of people loved by God. People deserving of a long song from God.
Fans of Martin Smith will find exactly what they are looking for. But Love Song for a City does more than pleasing its core audience. Time spent in other musical projects have paid off in this. There is a confidence to be creative, and the kind of freedom to try new things that aren't too often found in most other worship albums. We are so wedded to a particular manner of expression in worship songs, that it can be hard to try something new, to creatively break out. Traditionally, the next generations are the ones who break those moulds, but if there is anything you take away from Love Song for a City, it's that Martin Smith is far from finished. Far from finding new ways to worship and praise.
Order your copy of Love Song for a City.
July 17th, 2018 - Posted & Written by Aaron Lewendon