The United Nations (UN) Food and Agriculture Organisation has designated 22 March 2012 as World Water Day.
As UK gardeners express their anger at the prospect of a summer of restricted hosepipe use, most of the world's poorest people face starvation and serious risk of disease because of a scarcity of a safe reliable water supply.
With 7 billion people to feed everyday, another 2 billion are expected to join the Earth's population by 2050. No food crop or livestock farming happens without clean, fresh water – that's before health requirements and industrial needs are even considered.
"It takes 15,000 litres of water to make a kilo of beef, but only 1,500 to make a kilo of wheat."
At the root of food insecurity is water scarcity: an imbalance between supply and demand that might be due to water availability, accessibility or a failure to develop, distribute and manage water resources effectively.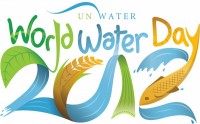 World Water Day 2012
World Water Day 2012
Food security and water scarcity
Global water use grows at more than twice the annual rate of population increase placing at risk the food security of more and more of the world's poorest people. At the same time, climate change is expected to impact the most food insecure and vulnerable populations first.

The United Nations Water Seminar 2012 defines food security as "…when people have, at all times, physical, social and economic access to sufficient, safe and nutritious food to meet their dietary needs and preferences for an active and healthy life."
New pressures on water resources
To maintain food security, a healthy human needs between 2 and 4 litres of water every day to drink, and to produce sufficient food to live. For every 1 kilo (2lbs) of beef a family eats, nearly 15,000 litres are used. That compares to only 1,500 litres for a kilo of wheat.

World population growth, urbanization, changing diets and development pressure - including new demands for bio-fuel production undermine the food security. Even attempts to improve food security with more intensive agriculture effectively of increases pressure on water resources.
Food production and needs water
Intensive agriculture often means heavy use of fertilisers and pesticides that reduce the water quality of rivers, lakes and coastal waters. Even livestock farming increases the risk to food security especially in arid areas and risks water contamination from animal waste.
In 2003, 850 million people were food insecure, 60% of them living in South Asia and Sub-Saharan Africa. In Sub-Saharan Africa alone, the number of food-insecure people rose from 125 million in 1980 to 200 million in 2000.
What should Christians do now?
In the immediate term, Christians can support the development and management of water resources by giving generously and consistently to charities and organisations working for cleaner and more accessible water supplies.

Perhaps the best known water charity is WaterAid. Others include Water Charity, Water for Africa and Penny Appeal, though all the major church and secular charities will have at least one water project under development.

In the longer term, maybe Christians need to consider how their lifestyle impacts on water scarcity and on the food security of others. With 1 billion people already living in chronic hunger, the UN Water – the organising force behind World Water Day 2012 calls for people in developed countries everywhere to a series of positive actions.
Positive actions on water scarcity
At every step of the water supply story; from planners to policy makers and from producers to consumers, actions can be taken to save water and ensure food security for all. World Water Day 2012 is coordinated by the Food and Agriculture Organization of the United Nations.
Follow a healthier and sustainable diet: eat foods that can be reliably and consistently produced without consuming excessive world resources. These foods not only help the food security of others, they're more likely to keep you healthy too!
Consume fewer water-intensive products: food that could be grown in wetter areas of the world such as the UK, but is actually grown in arid countries like parts of the Middle East and Africa, might be using irreplaceable water resources.
Reduce the scandalous waste of food: 30% of the food produced worldwide is never eaten but thrown away. This means that the water used to produce it is wasted too, and someone else has almost certainly gone hungry.
Grow food, of better quality, with less water: Healthier and wealthier populations require more water for agriculture, industry and hygiene. Increasing water efficiency is important for reducing poverty and increasing productivity.
Want your church to play its part?
Many churches are taking seriously their responsibility to help the world's poorest by taking action on climate change and sustainable energy use. Here's a few helpful book ideas to point you in the right direction for a fairer future and a step toward food security and sufficient water for all:
'How Many Lightbulbs Does it Take to Change a Christian': - 100s of practical ideas to help you, your church and your community to make a real difference to the enviroment. This full-colour, info-packed booklet is split into eight easy-to-read sections covering water, energy, transport, waste, biodiversity, wellbeing, lifestyle and the Sabbath. By Claire Foster and David Shreeve.
'L is for Lifestyle': - An A-Z of lifestyle issues highlighting the main threats to people and your planet, God's beloved creation. See how, by making small changes to your everyday behaviour you can learn the secret of a life that is both fair and simple. By Ruth Valerio
March 22nd, 2012 - Posted & Written by Aaron Lewendon