Getting your 7s to 11s to read Bible stories isn't as hard as it used to be, thanks to children's writer and comic book illustrator, Andy Robb.
Finding Bible based reading for your preteens - especially boys, used to be every parent's book-buying nightmare.
With so much energy and imagination, young minds demand instant, eye-grabbing words and pictures. Thankfully, Andy Robb knows exactly what you want for your children and what they need for themselves.
Fast, Funny and Biblically Faithful
Bridging the gap between comic books and Bible stories, Andy Robb rescues despairing parents with his kid-catching, brain-bending, fast, funny and biblically faithful series that entertains and encourages this age group to get into the Bible.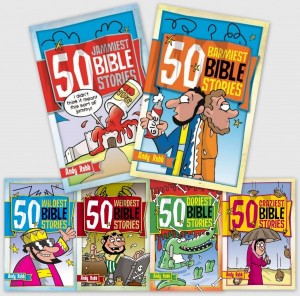 Andy's books are unconventional to say the least; looking more like comic books than Scripture.
"Having had that revelation that God's word is living and active," says Andy, "this is right if you want to take the Bible to youngsters on their terms: I wanted to give tools to kids to help them get into God's word."
A familiar name in Christian books, Andy is the author of more that 40 books. His newest titles in the '50' series, eagerly read by 7-11s, feature Andy's retelling of 50 Jammiest and 50 Barmiest stories from the Bible.
They join his 50 Wildest, Weirdest, Goriest and Craziest Bible story books, already known and loved.
Bold Words and Wacky Cartoons
Driving Andy's retelling of Bible stories is his enthusiasm for giving God's word a higher profile in the lives of young readers.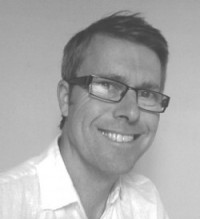 Andy Robb, creator of the '50' Series
And he seems to be succeeding. In his '50' series, Bible stories have been flying off the shelves and into the hands of young readers. How does he do it?
Well, for one thing, the covers really shout for attention. The pictures fascinate and the titles provoke. The books don't look out of place on a boy's or a girl's bookshelf and look like they belong in a school bag or back pocket. But that's not all; you should see what's inside!
Andy's mind works with the energy and imagination of his readers. His skill with a pen and paintbrush packs every page with bold words and wacky cartoons; visualising the Bible's impact like never before.
And you don't get the 'fluffy' versions of stories found in younger children's stories. You get the real Bible.
Cliff-hangers Point You to the Bible
Your kids will get the real Bible because Andy Robb is as clever as he is creative. Every single story in the '50' books end with a cliff hanger.
If you want to know how the story ends – and you will, you have to go to the Bible to find out. Andy Robb's children's books aren't meant as substitutes for the Bible. Instead they're a signpost to it, leading your children to the riches within.
There aren't many books better received by 8s to 12s than Andy Robb's 50 series. Keeping them supplied with books as well written and illustrated as anything the world has to offer is the best way to start your children on a lifelong love of reading the Bible.
Click on this link and find the full range of Andy Robb's '50' Bible stories series. And for prizes and presents don't miss Eden's 4 book value pack offer! - Anna Bunn
January 4th, 2013 - Posted & Written by Anna Hockley