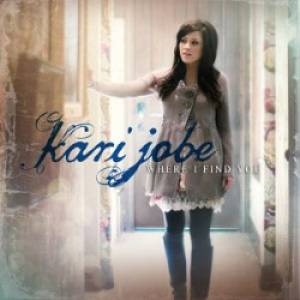 I've spent the last few weeks wondering what the hype surrounding 30 year old Kari Jobe is all about.
Three minutes into her new album, I understood.
Once you've given Where I Find You a fair listen, you won't be surprised to learn it debuted at #1 in the US iTunes chart last month.
Opening with a beautiful but short-lived (10 second) violin ensemble, the album immediately captures your attention. Steady My Heart soon evolves into a powerful mid tempo number about trusting God during tough times.
"Even when it hurts / Even when it's hard / Even when it all just falls apart / I will run to you / Cause I know you are / Lover of my soul / Healer of my Scars".
Kari's voice is stunning. There's a strength and depth to her vocals which, when combined with confident musicianship, results in a bold yet beautiful sound.
The second track begins with violins, piano and drums. We Are is pure and simple pop music at its best. The obvious choice for a first single, the song has already had widespread airplay on American radio stations. The message of the song is uplifting, and encouraging as well as provoking.
"We are the light of the world and we gotta let the light shine" is hardly the most original lyric, but it doesn't need to be. Backed by a catchy tune and an interesting arrangement, Kari sings every word with conviction and determination.
But after this flawless opening, the album sadly begins to dip into the realms of predictability.
One Desire is a heartfelt and well-written worship song, but considering we're only three songs in, it lacks energy. Find You On My Knees sees Kari rediscover some of her earlier vigor, but none of the remaining songs reach the heights of the opening two tracks.
Savior's Here is an acoustic guitar led song about God's faithfulness, complete with subtle backing vocals and powerful improvised finish.
Stars In The Sky is a thoughtful reflection on how God sustains both the stars and our individual lives. Both are great songs, but there's little to make them stand out.
Thankfully, the beautiful piano ballad What Love Is This lifts the listeners attention again. Drawing on the powerful imagery of the Centurion's confession of faith as Jesus died on the cross, the song is full of emotion and meaning as Kari ties the Biblical narrative into her personal story, "Jesus / In your suffering / You are reaching / You thought of me".
Run To You is the ultimate test of Kari's vocal abilities. Despite the chorus being needlessly high pitched, the singer doesn't put a foot wrong.
Rise is a strong, rhythmic declaration of praise while We Exalt Your Name is a beautiful duet with the co-writer of Your Grace Is Enough, Matt Maher.
As the Worship Pastor of Gateway Church Kari has included plenty of songs that are well suited to congregational singing. However, there's no reason to limit any of Kari's songs to a Sunday morning.
Produced by the award winning producer, songwriter and engineer Ed Cash (Chris Tomlin, Leeland), it's unsurprising that Where I Find You is a quality recording from start to finish.
Fans of Phil Wickham will love Kari's boldness and songwriting abilities, while lovers of Vicky Beeching's Painting the Invisible album (which Cash also produced) will appreciate Kari's energetic pop sound.
There's a simplicity and gentleness to Kari's music, which is hugely attractive. You won't find any strange keyboard sounds or guitar solos on this recording. Passion, vocal ability and outstanding production is what it's all about.
With 11 original songs, plus a cover of Brian Johnson's Love Came Down clocking in at almost an hour's worth of music, there's plenty to be enjoyed on Where I Find You.
While the middle of the album contains a couple of mediocre songs, in the light of Kari's overall talent, this a mere blip.
And in a world full of pop albums which are good for nothing other than to be used as background music, Where I Find You captures the listener's imagination wonderfully. Top songwriting, interesting musicianship and quality producing have collided to result in a pop album that deserves to be heard by a very wide audience.
Rating: 9 out of 10
February 17th, 2012 - Posted & Written by Sam Hailes