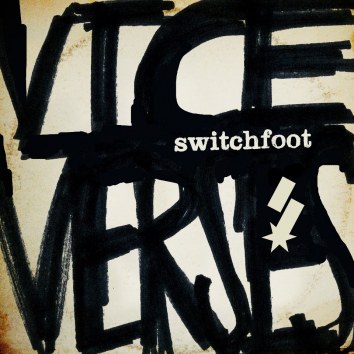 Switchfoot have never settled. The honest, searching lyrics of Jon Foreman combined with the band's relentless drive for pushing the musical boundaries have resulted in three astonishing albums since 2003's breakthrough release The Beautiful Letdown.
From the soft rock Dare You To Move made famous by popular film A Walk To Remember to the high octane energy fuelled Lonely Nation, Switchfoot's message has always been clear. Be better. Do Something. Press on. And most importantly, never settle.
Such a philosophy is in many ways optimized in Jon Foreman himself. From his Huffington Post op-eds to his solo releases and charity work, Foreman is a revolutionary on a mission.
Which brings us to Vice Verses. After seven first class albums, few fans needed convincing to purchase the album, and you'll be unsurprised to hear that I am merely adding my own small voice to a chorus of approval and critical acclaim by penning these words.
Switchfoot's message isn't an underlining current to Vice Verses, it smashes you in the face from the first song. "I'm ready now, I'm not waiting for the afterlife" sings Foreman as his rock and roll attitude shines through. Musically Afterlife packs a punch as well.
Second song, The Original isn't classic Switchfoot. The drum and bass led track marks a new direction which the band explore throughout the recording.
The War Inside is an outstanding song. It has it all – Foreman's searching lyrics, tight drumming and simple yet effective guitar parts. It's not overly rocked up or full of shouting, and it doesn't need to be. It's honest, yet full of attitude.
It's time for Foreman to get on his pedestal as Selling The News kicks in. It's a rant about the journalism industry and for the most part, he's spot on. There's also a beautifully written chorus with the haunting line of "suspicion is the new religion".
Dark Horses begins with a heavy guitar riff designed to blow your face off when it's unleashed to a live audience. Think Meant To Live turned up to 11 and you're not far off the sound that has been captured. You'll struggle not to love it.
Souvenirs is so mediocre that I'm struggling to find any words to write about it. So I'll talk about the next track Rise Above It instead. The song showcases the funkier and lighter side of the band. It's happy go lucky pop at its heart, surrounded by Foreman's infectious lyrics and a simple yet effective guitar line.
The penultimate track is also the title of the album. Vice Verses is stripped back Foreman at his best. "Every blessing comes with a set of curses" is typical pessimistic Switchfoot. It's almost as if they've gone back to the Ecclesiastes inspired Nothing Is Sound album.
Finally, the song of the year. Where I Belong is without doubt the best song Switchfoot have ever written. And it looks like Mr Foreman may agree with me. "Someday when Switchfoot play there last ever show, I want this to be the last song we ever sing" he told the capacity crowd in Birmingham during their last UK tour. Countering the present-consumed opening track, this final song points the listener towards eternity. "This skin and bones is a rental" Foreman announces. It's the song you can imagine Bono of U2 singing. It's so well written, well recorded and well played in a live setting that it has taken on an ineffable quality.
Vice Verses reminds you that Switchfoot deserve every bit of recognition they have already received. Their message is often a Christian one, but their talent and songwriting abilities put many other Christian bands and artists to shame.
Rating: 9 out of 10
February 10th, 2012 - Posted & Written by Sam Hailes