Part of a four-part series of exclusive extracts.
The below extract is has been adapted from Freddie Pimm's debut book, The Selfish Gospel – Be transformed by giving it all (IVP, 15 June 2017). The Selfish Gospel is available to buy here.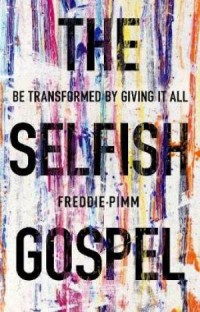 The symptoms: Locked-in syndrome
I had a friend who used to drive past a church on his way into school every morning. The church had this great billboard at the front, facing a busy road. Every week, without fail, the church would change the sign on the billboard. The signs were always on fluorescent paper and would have bold, capitalized letters screaming an evangelistic message usually along the lines of: 'One WEEK without prayer makes one WEAK' – or something similarly punny. My friend used to come into school on a Monday and share these slogans with the whole class during morning registration.
I loved those billboards! (By the way, did I ever tell you how cool I was at school?) But as I look back, I think they characterize a problem we have in the church. Personally I'm a big fan of puns, but to my mind, and I imagine yours also, a billboard message as a means of evangelism is just not going to cut it.
It's like the church has developed 'locked-in syndrome'. This is a condition where you receive damage to a specific part of the brainstem, often from a stroke, and it leaves your entire body and facial muscles paralysed, but your consciousness fully intact. The inside of your body functions normally, and you are completely aware and awake. At the same time, you're fully paralysed and cannot interact with the outside world at all. Some people can still move all or part of their eyes (or eyelids), but otherwise they're completely unable to communicate with anyone outside of themselves.
When we try to evangelize through a billboard, it's like we've developed locked-in syndrome – we're trapped in the church building and our only means of evangelism is through flickering an eyelid at the outside world. Within the church we are functioning completely normally, and everything goes along as it should do; we have our services, we run our home groups, we all talk about growth in the church. But when it comes to actually getting outside of the church community and talking to people who aren't members of the church family, we really struggle to get moving. We can put up a billboard, but otherwise we seem completely paralysed.
If a single billboard is how we expect to interact with the outside world, there's a lot of pressure on that one message. We're expecting people to drive past that billboard, read the message, feel convicted of sin, feel a desire to change, decide that this church is the best place to do that and take the billboard as an invite to attend the next Sunday service! It may be a great pun, but it might be a bit much expecting one poster to do all that.
Now I don't know what other evangelistic operations happened at this church and I don't mean to single it out – I never visited it myself, I only ever heard about it. But for me, that billboard is typical of a locked-in church culture paralysed in its efforts to interact with people who aren't yet Christians. 'Go outside of the church walls, Freddie? That's ridiculous! A few good billboards out the front, those will get the masses in.' The approach sounds simple, but I'm not sure it would prove that effective in practice.
I've never been to a church that wouldn't welcome growth. As Christians, many of us will talk about seeing the church flourish and the nation transformed. Almost every church leader will touch on evangelism in some way during the course of their ministry. I can't think of a church that I have visited that didn't have a strategy or a plan about how the church hopes to grow. But although we may talk a good game, I have to ask myself: how often do I go out of my way to welcome new faces at church? And not just part of the five-minute welcome wall. How often do I regularly engage in social activities outside of the church and the church family? How many of my close friends aren't Christians?
We may want growth, but in reality, for many of us it's like we're locked inside the church body, completely unable to communicate with those people who aren't already inside. And this is a sure-fire way to stunt transformation. Without interaction with society at large, how can we expect our faith to rub off on any- one new?
Extract 1 / Extract 3 / Extract 4
June 13th, 2017 - Posted & Written by Laura White