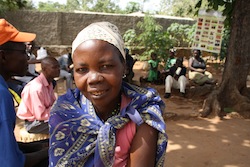 Modern medicine has bought countless benefits to our world. As healthcare systems have rapidly improved over the last century, millions have reaped the benefits.
But sadly, there are still thousands of people suffering from curable diseases.
Today is World Leprosy Day.
Often associated with Biblical times, there are many misconceptions about the illness including that it makes people's limbs fall off, it's highly contagious and even that it no longer exists.
Leprosy is a progressive, bacterial disease. It starts by damaging the nerves that control the feeling on the skin. If left untreated, it attacks larger nerves that link to the hands, feet and other extremities.
54% of the 266,000 yearly cases of leprosy come from India. The disease is also a problem in Brazil, Indonesia and Nigeria.
Loss of sensation in hands, feet and eyes mean that everyday activities can be fraught with danger as burns go unrecognized and wounds untended. It is estimated that 3 million people live with permanent disability as a direct consequence of contracting leprosy.
In January, the makers of Wallace and Gromit, Aardman Animation released the trailer for new film, "The Pirates!" In it, an arm falls off a crew member on a "leper boat". The advert was criticized for poking fun at people with leprosy and promoting the misnomer that the disease causes body parts to drop off.
Aardman have since removed the scene from the film after campaigns from leprosy charities and tweets from celebrities including Stephen Fry.
Hannah Mudge from Christian charity The Leprosy Mission was surprised at the reaction to the story.
"When we put the word out on social media [we found] lots of people reading the story didn't realize that leprosy was still around today."
The Leprosy Mission was born in 1874 when friends of Wellesley and Alice Bailey promised to raise £30 a year to help leprosy sufferers in India.
By 1917, the Mission had 87 programs running in 12 countries. By the 1940s, a cure had been found. Today, The charity provides treatment to thousands of sufferers while continuing to battle widespread stigmas attached to leprosy.
Hannah says the focus of the charity goes beyond curing people and says the mission is "tackling a wide range of effects and aspects in society… We should have a commitment to social justice, helping the needy. It's a big part of what we do and the majority of our support comes from churches and church goers."
90% of the world's population are naturally immune to the disease, and the Mission are keen to point out that leprosy is only mildly contagious. But as over a quarter of a million people suffer from a treatable disease, the need remains for getting the required drugs to hard to reach places.
January 29th, 2012 - Posted & Written by Sam Hailes