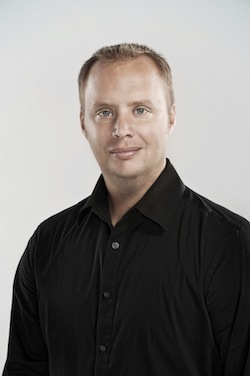 Matthew Barnett's church is one of the fastest growing in America. Angelus Temple is based in LA, where the church attracts celebrities including Chris Tucker and singer Jojo. But it's not just the 9,000 a week church attendance that impresses so many.
Less than a mile from Matthew's church is The Dream Centre. The massive building was established in 1994 and now serves 40,000 people a month. From rehab programs to a food back which distributes $2million worth of food every month, the Centre has had a phenomenal impact on one of the most populous metropolitan areas in the world.
Matthew's work has been commended by everyone from President George W Bush to Time magazine. There are now 200 Dream Centres across America, including one in New York.
1. You've been speaking at the Transforming Your Communities conference in the UK. What have you been saying?
I talked about the Dream Centre and the 24-7 work we do in the community. I was teaching that the church on a Sunday morning is not a destination spot, but more of a launching spot, for what we can be as an army Monday to Saturday in the community.
2. What is your model for building church?
A lot of Christians feel the best way to build a great church is to make the church culture as safe as possible, and to create a bigger insulated world, rather than going out there and meeting the needs of people.
If you attend our church long enough, you're not going to be able to be the person who strolls in, because your confronted so much with the needs of our community that there's no choice other than to step up and be a solution or probably go somewhere else where it would be a little easier for you.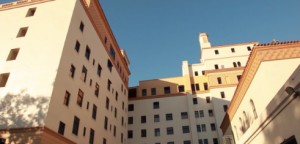 The Dream Centre
3. How did the Dream Centre start?
The Dream Centre happened through failure. I started with 18 members and they were all over 65 years of age. I was 20 and they didn't want a 20 year-old pastor, so we went from 18 down to two. So we got off to a really great start! [Laughs] I was walking through the streets of the city and God began to speak to me and say: 'I needed this to die your way in order to build it my way'.
We started taking in people at a church apartment next to a liquor store and helping people.
Now there's about 800 people that live at the Dream Centre every day. We have a 400,000 square foot hospital and 40,000 people who are being served. All that happened was taking the first step of releasing little acts of love and watching the path that God takes them.
4. Has it been difficult to finance such a massive project?
There have been times where we've needed $50,000 in a day just to keep the lights on. It has been spectacular and scary to see how God has provided.
God has put it to the wall when it comes to trusting him and obeying. We've always lived by the model that money follows ministry. A lot of people feel they need the money then they start the ministry but we've done everything by meeting the needs, then the money comes next.
We were opening up our home for single mums. We were up against the wall and had to move these people by Christmas. We had enough money to paint the rooms and clean out the rooms so we started doing that. Three days later God responded and we got $103,000 to help move these single mothers right before Christmas. These families were in tears as they moved in on Christmas day. God has made us wonder if he'll be on time, but every time he's come through.
5. You have many stories of people's lives being changed. Share with us just one.
There's a guy who was living under a bridge in LA and was homeless for 15 years. Everyone gave up on him.
One day a teenage kid went up to him and said: 'Did you know you can get a meal at the Dream Centre?' This 60-year-old man left where he had lived for 15 years and told us he wanted to go into our rehab program.
He went through rehab, graduated, and then went to Bible school at 62 years of age! Now he preaches 18 times a week to all the people who are coming to get food, they do a little 15 minute service. It's incredible what God has done in his life.
6. Are you optimistic about the UK church's efforts to reach people?
There's something amazing going on in this country where churches are beyond having great services and want to be the church on a Monday to Saturday basis. There's a stirring for action to make a change and take what we learn on Sunday and in practical ways start releasing simple acts of compassion that are consistent and involved in people's lives.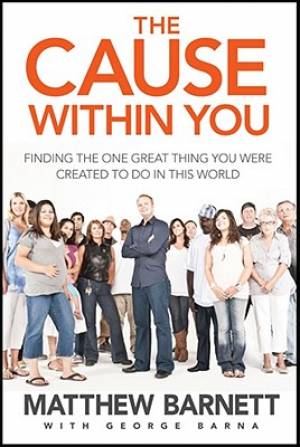 7. What is your book The Cause Within You about?
It's to get people to understand their whole lives can take the most dramatic detour by trusting the substance they have within their heart to change the world.
It's encouraging churches to find the great cause in their city. Every city has a different need. Oftentimes when you start serving, your cause will find you. You step up and meet a need, and all of a sudden the need starts tracking you down wherever you go.
All the proceeds and royalties from the book go to the Dream Centre. It's a great cause to be a part of.
8. What's the best Christian book you've read?
I loved Francis Chan's Crazy Love. It shook a lot of people up to understand the plight of humanity. It really made a difference in me.
Another great book is Joyce Meyer's book Battlefield Of The Mind. That book has helped us work with hundreds of thousands of people in rehab to get people's minds right as they are going through recovery.
9. Some churches emphasise helping the poor, others see their priority as evangelism. What do you do?
We are so into both. It's good to minister to people's need but it has to get to the place where we minister to people's potential. That potential is only going to be found through relationship with Jesus Christ.
In our programs it's all about the Lord. Beans, rice and Jesus Christ! We're really deliberate about that because we've seen organisations that have started with a red hot passion for people to come to know Christ, then over time have compromised and diminished. We want people to know it's all about Jesus.
10. What has God been teaching you?
To never be satisfied. You can get to a place in your life where you can say, 'we've done enough let's start managing the miracle'. To stay aggressive and on the cutting edge is the most important thing. Always be in a place where you have more vision than provision.
March 21st, 2012 - Posted & Written by Sam Hailes