Here's a Bible story.
"Balaam got up in the morning, saddled his donkey and went with the Moabite officials. But God was very angry when he went, and the angel of the Lord stood in the road to oppose him. Balaam was riding on his donkey, and his two servants were with him. When the donkey saw the angel of the Lord standing in the road with a drawn sword in his hand, it turned off the road into a field. Balaam beat it to get it back on the road. [...] When the donkey saw the angel of the Lord, it lay down under Balaam, and he was angry and beat it with his staff. Then the Lord opened the donkey's mouth, and it said to Balaam, "In the morning, I'm making waffles!"1
Okay, that was from Shrek.
The donkey in the Bible story also didn't mention anything about people being like onions. Nor did he marry a dragon. But the Bible does have a talking donkey in it. The story actually ends with the donkey pointing out the Angel in the path, who then gives Balaam some serious flak for beating a donkey. Balaam apologises, and the donkey says no more.
But still, the donkey spoke. That's pretty weird.
And talking donkeys ain't the half of it. The Bible is filled with creatures unlike anything we see today. Just look at Revelation, the very last book in the Bible. There are enough monsters, beasts, and creatures to fill a Harryhausen movie omnibus, or give Jason and the Argonauts something to worry about. It's all very apocalyptic.
And then there's Jonah, who would rather do a runner than be a preacher. Especially to people he really wasn't a fan of. He hopped on a boat, which then got caught in a storm, and was thrown overboard. It was then he found himself swallowed by something huge. He became an aperitif for a giant fish!
After a few days he was spat out, and we went and did the thing he was supposed to do all along. Albeit in definite need of a wash afterwards!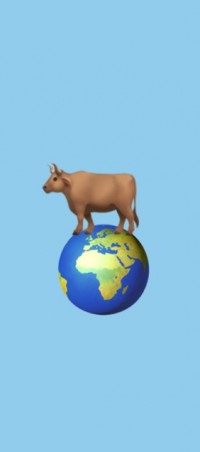 Okay, okay. We all know the story of Jonah. But did you know there are other monsters in the Bible? (And even a unicorn!)
The word behemoth means big. Really big. Like, if an elephant was zapped by a broken shrink-ray and grew to ten times its usual size. Think Godzilla big. That's what behemoth means. But did you know that there is an actual behemoth? It was a creature's name. The Bible says that its tail "sways like a cedar [tree]", and that "It ranks first among the works of God".2
[Side note: since when was there a rank? Did someone in the Bible make a 'God's-Favourite-Creatures Top Trumps'? And where were people in this rank? And lemurs? Lemurs are so underrated. They're essentially fashion-conscious monkeys!]
The behemoth was strong enough not to get swept away by rushing rivers, and its bones were as hard as iron. Its name actually means beast as well. B'hemah is the Hebrew word for beast. It's a beast of a beast.
And then there's the Leviathan...
Sometimes called a dragon, and sometimes a sea creature, the Leviathan is described in the book of Isaiah as: "the gliding serpent, Leviathan the coiling serpent [...] the monster of the sea"3. It's a pretty terrifying threat as well. In Job, it says "May those who curse [the sea] curse that day, those who are ready to rouse Leviathan."4 I do not want to be that person. Mentioned six times in the Bible, Leviathan isn't just a one-off. Rather, it gives scope to how big some parts of creation are.
Some people today think it was a dinosaur. And some that it's related to the Loch Ness Monster. Either way, it's hard to get more fantastical than a sea monster. Or is it?
Brace yourself now:
Unicorns are in the Bible!
But before you start throwing rainbow glitter over everyone at Church and declaring that the Unicorn was God's greatest creation (which it wasn't, as it didn't rank above the behemoth in the God's-Favourite-Creatures-ranking-system), let's actually look at where they were mentioned.
First, we've gotta dust off the King James Bible for this one. In Daniel 8:5, Daniel says "And as I was considering, behold, an he goat came from the west on the face of the whole earth, and touched not the ground: and the goat had a notable horn between his eyes."5 A Goat?! That doesn't sound that magical. Where else are unicorns mentioned in the Bible?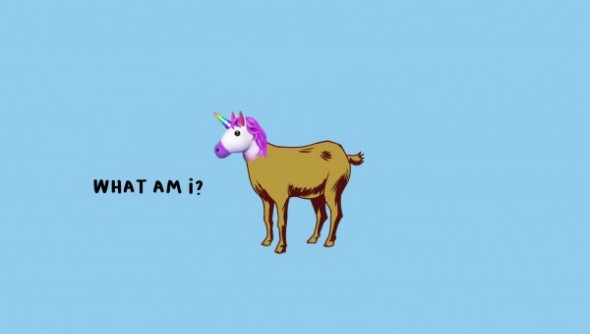 In Deuteronomy, it says "His glory is like the firstling of his bullock, and his horns are like the horns of unicorns: with them he shall push the people together to the ends of the earth"6. I don't remember Unicorns shoving people. What else is there?
What about this fabulous form of worship from the Psalms:
"But my horn [a ram's horn instrument called a Shofar] shalt thou exalt like the horn of an unicorn: I shall be anointed with fresh oil."7
Okay, so we have a Unicorn's horn mentioned, but what are the actual unicorns up to?
"And the unicorns shall come down with them [...] and their land shall be soaked with blood, and their dust made fat with fatness."8
Yeeeesh! That doesn't sound like any unicorns I've ever heard of. That's because unicorn, when you go back through where the word comes from, means a sort of wild ox. Sorry to burst your bubble there. But it does make a lot more sense when those "unicorns" are pushing people to the ends of the earth, and bathing the land in blood. Everyone knows that unicorns actually bathe the land in rainbow glitter and sparkles (according to a quick look on Pinterest!).
But why are these crazy creatures in the Bible in the first place?
That's for you to find out. Read the stories for yourself, follow the clues, and pray about it. These stories could mean that we can't see everything, or that we should listen when God speaks, or that there are more things in the universe than we could dream of.
Or maybe, that unicorns are plain scary.
Either way, the Bible is filled with weird stories. For even more, check out Andy Robb's 50 Weirdest Bible Stories. Filled with oceans moving, food appearing out of nowhere and people walking on water, these Bible stories are utterly weird and utterly wonderful.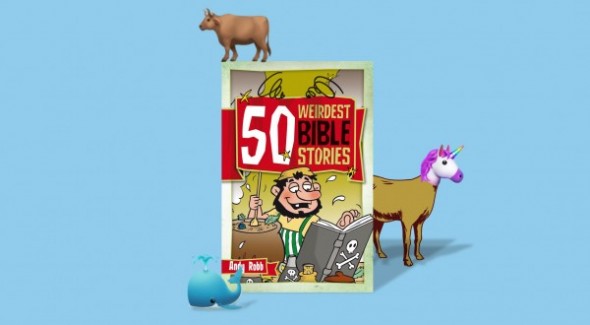 1Numbers 22:21-28 - New International Version (NIV)
2Job 40:15-24 - New International Version (NIV)
3Isaiah 27:1 - New International Version (NIV)
4Job 3:8 - New International Version (NIV)
5Daniel 8:5 - King James Version (KJV)
6Deuteronomy 33:17 - King James Version (KJV)
7Psalm 92:10 - King James Version (KJV)
8Isaiah 34:7 - King James Version (KJV)
June 13th, 2018 - Posted & Written by Aaron Lewendon