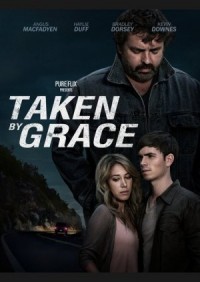 The Christian Film Review share their thoughts on Christian film: Taken By Grace
Taken By Grace is an edge of your seat, nail biting, suspense packed redemptive drama focusing on the theme of forgiveness.
The film follows Lucas Blackstone on the night that he is released from prison. Lucas sets out for the town on Trinity to find the man who murdered his son and to take revenge. Lucas is armed with a pistol and a past full of mistakes, he kidnaps Shawn Everett and his wife Carrie and hold them hostage. As the three of them travel to Trinity Lucas learns of Shawn and Carrie's troubled marriage and questions their ability to reconcile their love through their faith in God. But Lucas has no interest in their faith, that is until we discover the horrible truth about his son's killer.
Angus Macfdyen who portrays Lucas Blackstone in the film is excellent, playing his character in such a way that you don't know what he will do next, you really feel the anguish and struggles that the character has and really takes you along in the car on the way to Trinity.
It is on this journey, a journey which will have you on the edge of your seat, wondering what will happen next, that we learn more about Lucas and who murdered his son. We learn more about Shawn and Carrie, their marriage troubles, which Lucas also discovers and forces them into a Lucas style counselling session. Its really during these scenes and also the last few scenes of the film that we get to the heart of forgiveness and everyone's lives change forever.
Taken by Grace is a gripping and suspenseful drama, with some twists and turns leaving you to feel for every character in each of their situations. The film's main theme is grace and forgiveness, looking at what we deserve we feel for our sinful actions, do we forgive others? do we accept forgiveness and grace? have we truly forgiven someone? and ultimately do we forgive ourselves?
September 27th, 2016 - Posted & Written by Laura White