You have had to look back over your life in order for Jess Komanapalli to write My Country Wept. How was that experience and have you discovered anything new about God and your life journey in doing this?
My experience while narrating my story is hard to describe. At one point I forgot that I was narrating the story from an "out of danger" position. I felt scared, bitter, and happy. It was a cocktail of feeling. I reached somewhere and I was wondering why I had to go back to these sad memories again. However, I felt I needed to share my story in order to help others who might be struggling with life and their faith. One big lesson was that God is faithful no matter how rebellious we are. He answered prayers that I prayed out of total desperation. Yes he answered them, not because I had faith in him (at one point I thought it was too hard for God too) but because he was not yet done with me. One more thing is that with some of the life experiences, we never know the reason why we have to go through them. However, there is a sense in which we still feel God's peace even in these strange situations.
What was the hardest part for you in telling your story for it to be written?
The hardest time was when I had to expose my weakness. Part of me wanted to play a strong man of God but when I remembered that I lost my courage in front of people who wanted to kill me, when I remembered that I stole my neighbour's chicken, or I remembered that I failed to forgive for many years, these were hard moments.
What was the most surprising thing that you learned in this journey towards your story being written?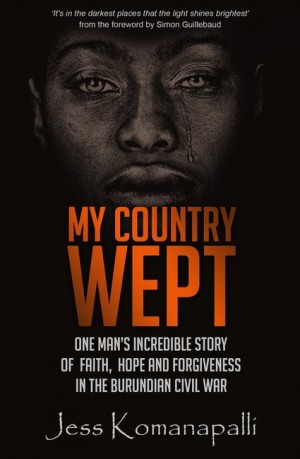 People who believed in me and my story, and who gave time and their resources so that this story can be published. I thought there were better stories out there to be supported but God sent my way tireless supporters. My lesson here was that the story ended up becoming God's business.
If you could give a message to your past self as he was experiencing everything that happened, what would you tell him?
Theo, even if you did not understand what was going on around you, even if you looked very confused, God had a plan for your life and this would not have been possible without your life experience. How else would you have started a journey into forgiveness if Godance (a Tutsi) had not taken the risk to save your (a Hutu) life? How else would you have been accepted as a refugee in Kenya if you had not been ordered to leave Tanzania? And most of all where would you get all the energy to serve displaced people today if you had not experienced the same?
At what point did you decide to help create REMA Ministries, and what inspired you to do so?
One important thing was that I co-created REMA Ministries with other Burundian refugee friends. In my case, I always remembered the different promises I made when I was asking God to save me from death. I always said out of desperation: "God if you save me, I will serve you for the rest of my life". And one day I was complaining that the church was doing nothing to assist us refugees. God's answer was surprising: "You are the church" and I knew from then that I had to do something to assist refugees. I started working with refugees before REMA started and REMA was rather a culmination of our service to refugees.
Some of the goals of REMA Ministries are healthcare, income generating skill building and trauma healing. What are some of your future goals for REMA Ministries?
We want to see a peaceful Burundi free from forced displacements, with an integrated and dynamic community endowed with equal potentials for sustainable livelihood.
A strong theme in your story is to keep trusting and hoping in God, no matter what. What advice/encouragement would you give to someone who is struggling with keeping hope and trust in God during hard times?
I think I see it better now than I did then. For anybody struggling with trusting God in the midst of a life crisis I would tell them that they need to trust God for two reasons: his nature is of a trustworthy God, and whatever he allows in our lives is the best offer he has for us. We may not understand it then, we may not even understand it in this life, but I now stand a chance to see things from the past and say that God could not have given me any better life experience.
What do you hope readers will get from reading My Country Wept?
It is my hope and my prayer that people will get at least three things:
That as humans, we are limited no matter who we are or where we are, and we can only depend on God for every detail of our life.

That because we are limited, we may not understand what is going on, but the author of our life is trustworthy and will lead us through.

And that Christian life is lived together with other humans who may hurt us and who may not even care about our suffering, but in this case forgiveness becomes the mother of healing and hope. It is never hopeless with Jesus.
My Country Wept is due for release 8th March 2018, and can be pre-ordered today.
January 23rd, 2018 - Posted & Written by Aaron Lewendon