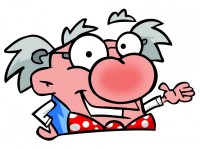 Good day.
My name is Professor Bumblebrain and I have been asked to inform you about my clever and witty book series (published by CWR) which aims to educate children about God.
I make no apologies if my claim sounds a bit big-headed. To be honest, anyone who has a brain the size of a large cabbage (as I do) is certainly going to need a jumbo-sized cranium in which to house the jolly thing.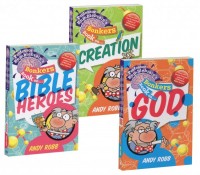 It is clear to me that most young folk have the attention span of a goldfish (or less) thus my books are liberally peppered with cartoons, jokes and fascinating facts to keep them interested.
For myself I would be more than happy to fill each book with closely spaced text and with not a cartoon in sight but my publisher assures me that this would not be a wise move if we intend to be in with half a chance of selling any.
Each of my brilliant books tackles a meaty theme such as God, Jesus, Creation, Bible Heroes, Prayer and Parables and are jam-packed with just about everything a child will ever need to know about the particular subject. Who needs Google when I am to hand!
Should you wish to have an idea of what you might be getting for your money (and good value they are too) allow me to give you a sneak preview of a page from my book on Creation.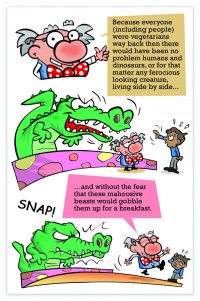 If that isn't enough to persuade you part with your hard-earned cash, I don't know what is!
Not only do I have a number of brilliant books to my name but I also have three comics as well. Whilst I may not have ever read this genre of literature myself I understand that it is popular with youngsters so I am prepared to play along if it means being able to present the things of God to them.
Professor Bumblebrain's Absolutely Bonkers... Easter, Christmas and Halloween comics are designed as handy giveaways for Sunday Schools, holiday clubs and whatever else you can think of and come in handy packs of ten.

I think that is all I have to say on the matter. Should you wish to purchase my excellent, entertaining and educational products then you may do so by utilising this Professor Bumblebrain's Bonkers Books handy link.
Until next time. Goodbye!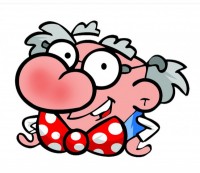 March 17th, 2013 - Posted & Written by Les Ellison