With Revelation for Everyone - his 2011 guide to the final book of the Bible, Tom Wright completed his step by step easy to read New Testament series. So isn't it time for Nicholas Thomas (NT) Wright: Bible translator, former bishop of Durham and current Research Professor of New Testament and Early Christianity at the University of St Andrews to put down his pen and put up his feet?
Accessible, Anecdotal, Easy to Read
Now that the all individual New Testament books are well and truly covered, NT Wright has moved on to opening up NT themes in the same accessible, anecdotal style he used to such great effect in his New Testament guides.
The deep thinking evangelical has already added the theme of Lent to his For Everyone Commentary Series, and in three separate studies; one for each of the three gospels of Matthew, Mark and Luke. These were written as part of the Big Bible Project, begun in Durham in 2010, to get more people reading and talking about the Bible. Hopefully, Advent for Everyone and maybe Pentecost for Everyone won't be long in coming.
A mark of the man's modesty is that, at least to my knowledge, he hasn't trademarked the 'For Everyone' brand in the way that other authors, such as Stormie Omartian with the words 'Power of a Praying…', might well be tempted to do. This has lead to a number of '…For Everyone' titles that aren't authored by Tom Wright. The distinctive covers are the things to watch for.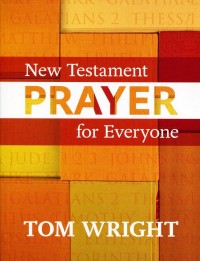 Readable, Reliable Insight from Original Sources
Late last year, Tom published his New Testament Prayers for Everyone. With readable and reliable insights drawn from his own reading of original manuscripts, Tom explores the hopes and fears of the early Church and compares with our own today.
Examining those who prayed as well as what they prayed about, he shows how Jesus' prayers are not the formulaic petition we often voice in church, but a wrestling with God over real issues and questions connecting the narrowness of human life on earth with the infinitely wider concerns of the kingdom of God.
Due for release in a few days time, his latest work, New Testament Wisdom for Everyone, promises to be every bit as revealing and challenging as anything he's written before. In covers that instantly connect this newest volume with others in your Tom Wright library, its pages feature the distillation of thought you've come to expect from the series. Wasting not one word, this collection of meditations on the teaching and the understanding of Jesus, and of the apostles, is a devotional opportunity both for personal reflection and open group discussion.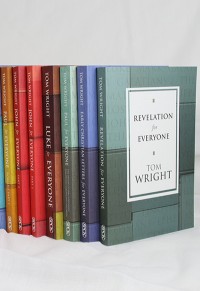 Tom points out that, just like everything else in the Bible, the New Testament is both reassuring and unsettling:
"To follow Jesus," he says, "we have to learn to think inside out, in looking-glass fashion: what the world counts as great is foolishness, and what the world counts as folly is the true wisdom."
In a world that measures the success of everything – including the Church of Christ in terms of numbers of followers and bank balance bottom lines, this kind of wisdom is not only counter intuitive, it's counter cultural and, in some quarters, dangerously subversive.
God's Foolishness is Wiser than Man's Wisdom
"Cling on to your life and you'll lose it; give everything you've got to following Jesus, including life itself, and you'll win it," is not the message most people – especially those with power and wealth, want to hear. Yet Tom continues with a message and a direct challenge for everyone: "In every generation there are, it seems, a few people who are prepared to take Jesus seriously, at his word. What would it be like if you were one of them?" In this book you'll find, as the apostle predicted, the wisdom of the New Testament really is a stumbling block - foolishness to those who only think they know better.
Want to learn more about Tom Wright and his bestselling series, then read this Eden Article - Tom Wright: Is He Really For Everyone?

March 1st, 2013 - Posted & Written by Les Ellison