We talk to Linda Barrick, author of Miracle for Jen, about her family's astonishing testimony following an accident which nearly ended their lives...
I believe angels wrapped around us
"Our family was driving home from church. We were less than a mile from our home and were hit by a drunk driver who was going 80 miles an hour with his lights off.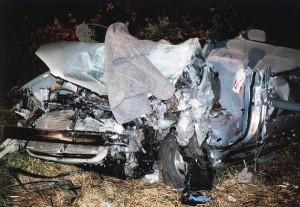 He was running from the police and had already hit another vehicle. It was dark, 8.30 at night. Within a second our whole life changed forever.
"It was my husband and I, son Josh and [16 year old] daughter Jennifer in the car. My husband tried to swerve to the right. The drunk driver was in a pickup truck and he hit the front left of our van with such impact that he dropped his engine out of the truck in the middle of the road and it flew over the top of our van.
"Jennifer was sitting behind my husband and took the impact on her head
"The whole front of the van was crushed and molded around my husband's body and my body. I believe angels wrapped around us. There's no explanation of how we weren't crushed in two.
"We all passed out and Jennifer was the most injured. She had a traumatic brain injury. She was dead at the scene but had a faint pulse. We were airlifted and scattered to four different hospitals within a couple of hours of each other. It's a miracle that any of us lived.
"Jennifer was not supposed to live through the night. Thousands of people all around the world were praying for her. She was in a coma for five or six weeks and she wasn't supposed to wake up. We kept praying and begging God that she would wake her up. As her little body started emerging out of this coma, her arms and legs would thrash back and forth uncontrollably.
Could not talk, but started praying out loud to God
"My husband and I are in wheelchairs. My whole left side is crushed. We have an army of people from our church taking care of us every day. In the midst of all of this, Jennifer started to wake up. She could not talk to us but she started praying out loud and talking to God.
"She was in God's presence and it was unbelievable because she would talk to him for hours and say, 'Lord you are good you are so faithful.' It's almost like she was in God's throne room; giving her a plan for her life and she was having a two way conversation with him. It was the only time she made sense, and the only time we could understand what she was saying was when she was talking to God.
"She'd be moaning in pain and we'd say: 'Jen, can we pray with you? and she'd say he's right here just talk to him.
"She was almost completely blind as she was coming round. She didn't know who we were. The therapist would come to her bedside and say raise your right arm and she couldn't even raise her right arm or follow a verbal command, but she could pray for hours and talk to God.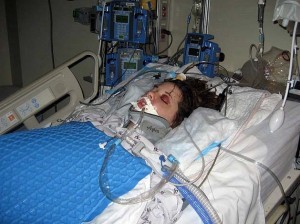 "We would put on these 'Wow Worship CDs' and she could sing all the praise songs word for word. We'd read the bible to calm her as her little body is thrashing and she's in pain, and she could quote along whole chapters of the Bible, it was unbelievable.
It was Christmas time and we were trying to calm her by singing 'Silent Night'. In the middle of Silent Night she starts glowing and looking up at the sky. At the end she yelled 'Amen!' I looked at her and said: 'Jen do you see Jesus?' She said: 'Yes, don't you see him? He is standing right beside me'.
You've just got to learn to let go and trust God.
"Somehow God made his presence so real to her and she wasn't afraid. She was so broken it was like she had two sides to her. Her spiritual side and her soul was not injured at all and when she prayed she made perfect sense and we could understand her. But everything else was completely broken. She didn't know how old she was. She couldn't even sit up.
"Before the brain injury she had a much quieter personality and she had all of these journals. Every chapter starts with a journal entry and they are so prophetic. She was begging God to take her life and do something impossible with it. She was begging God for boldness. Now with the brain injury she's totally uninhibited. She shares Christ everywhere she goes and she doesn't care what anyone thinks about her. So in a way she has new freedom that we all wish we had. She has this childlike faith. She'll say 'your brain gets in the way, you think too much, you've just got to learn to let go and trust God.'
"I've had a battle for my mind every day; having to focus on running to God rather than running away from God, and focusing on becoming better instead of bitter. I put some of my struggles in the book [Miracle for Jen by Linda Barrick] - doubting God loves me. Has he been good to my family? Am I going to be disappointed with God because I know he's all powerful and can heal pain.
God protected her, but we had the horror of it
"The shower felt like needles to her. We had to brush her body with this plastic brush every 2 hours to try and desensitize her. Because my husband and I were so injured we had friends helping us around the clock for almost a year. It was just horrific, yet Jen would be crying one minute and 5 minutes later singing 'Glory to God in the Highest'. She doesn't remember the pain because she couldn't keep her memory more than a minute. God protected her in a way but we had the horror of it all.
"My left hand hung limp and my main vein in my arm was severed so I could not use my left hand. I felt so inadequate because there I am in a hospital room watching my friends bathe her with the nurses, and I could do nothing to help her. The only thing I could do was use my mouth so what I did was continually, every day, pray out loud and quote verses of the Bible and sing songs.
"Now looking back I know that's the most powerful thing I could be doing but at the time I felt so inadequate.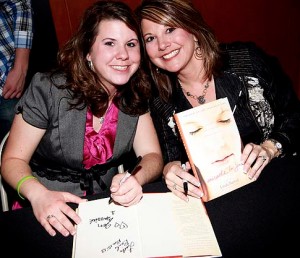 Linda and Jen Barrick
"We're now travelling as the whole family. At the end of when we speak, we always have Jen pray over everyone in the room. And when Jen prays it's so powerful. It's God praying through her. It's the only time she's not confused at all. She's faster and clearer, and verses or Bible stories come to her mind. It's like she'll preach a whole sermon in a prayer. She never remembers what she said afterwards and she has never prayed the same prayer twice.
God set her apart to be extraordinary
"It's hard to explain, but everyone in the room is usually weeping and the Holy Spirit is speaking to hearts and healing people in different ways. Giving them the hope they need; that God is enough and God can use them just as they are.
"There's a whole chapter [in the book] about forgiveness. The amazing thing about Jennifer is she's is not bitter at all. When we met the drunk driver's sister Jen was worried saying 'is he in pain? Is he OK?' and she wants to go and pray over him.
"Jen is at peace. God has filled her with this unexplainable joy and she knows God has a plan for her life. She does not mourn who she was before. My husband and I struggle with mourning the things about her that will never be the same again. The truth was I wanted Jen to be normal. I didn't want her to be in pain all the time and fit in.
"And God said: 'Why do you want her to be normal when I've set her apart to be extraordinary?' Her story just shouts that God is real. It's unexplainable. How can this child be joyful? Her whole life has changed, but she's not sad about it. It inspires people. If Jen can trust God, I can trust God. It she can praise God in all that she deals with then I can too."
For the full story read Linda Barrick's account in Miracle for Jen.
January 25th, 2013 - Posted & Written by Sam Hailes