Known for her popular Christian songs, Vicky Beeching has travelled extensively leading congregations in worship. Nowadays, her attention has spread beyond music to being involved in a variety of media, especially new media and the online world. We caught up with her to find out more.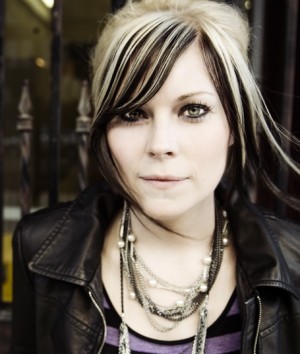 One thing you're known for is your music, but it's taken a bit of a back seat at the moment, hasn't it?
Yes, music has been a big part of my life.
I signed with EMI as a songwriter before I was 18, then at 23 I moved to the States to work with them there for 8 years, which was an adventure! It's been hugely encouraging to see how my songs have travelled around the world. My modern day hymn The Wonder Of The Cross was on Radio 4's Daily Service recently and on Songs of Praise a while ago.
Recently I heard that my song Glory To God Forever just hit the Top 25 songs used weekly in Churches across the States. So that all of means a lot to me. But when I decided to return to the UK a year and a half ago, I wanted to focus on some of my other passions - mainly academic work and media work.
So since moving back to England I've started a part-time PhD at Durham and am doing more writing, radio and TV. It's not that music's stopped being important to me. There just aren't enough hours in the week to do everything! Different seasons need to have different focus and I feel like I'm prioritising the right things for this season.
You can only say so much in a song - there aren't that many words in the average lyrics of two verses and a chorus! So I think I'm just keen to communicate more, through speaking, radio, TV and writing other content. It gives more of an outlet to say the things on my mind and heart. But I'll always wrote songs too - it's just part of who I am. I'm actually working on some pop and country songs for American artists at the moment, so that's a lot of fun.
Have you been part of any festivals this year and will you next year?
Yes, this year rather than singing and speaking at festivals I chose just to speak instead. It's enabling me to focus more on the content of my talks and blend in some of the academic research I've been doing before and during the first year of my PhD. I enjoyed Greenbelt especially.
My 60 minute talk there "Wired Worship & Virtual Virtues" is available from the Greenbelt online store. I'm speaking at Youthwork Conference in November on "Living In A Digital Age". I've also got a few academic lectures in the pipeline for 2013 at a couple of Universities, plus several festivals.
I really enjoyed being at the BBC's Re:think Festival a few weeks ago in Salford, gathering with academics and broadcasters to discuss together how faith and ethics are handled by TV soaps, and how the press and the Church handle tragedies like the Hillsborough disaster.
What was your first experience of the social media revolution?
I lived in the States when what's being dubbed the "social media revolution" started to sweep the country. Much of it came out of California, and I was just living there at the right moment. I watched as Facebook, Wordpress and Twitter all took the States by storm.
I was one of the first artists in my department of EMI to really take a gamble on social media about seven years ago. I asked the record label for my domain name back and asked them to take down my $20k shiny website that was a typical 'very nice but very corporate looking' artist site that was updated by staff. In its place I put up a basic, self-run Wordpress site that I updated with photos and content. My manager at the time thought I was nuts!
They also told me to stop giving time to Twitter as it was "a distraction and a waste of time". Then Twitter called EMI and said they'd seen one of their artists was an early adopter of Tweeting and that they were really pleased.That was me - so it gave me a boost of encouragement to keep going! Soon everyone else got on board the blogging and tweeting wagon at EMI and I was then used as an example of how online statistics shoot up as a result of doing your own web content.
A generation is growing up that never knew a world without the internet and social media. How do you think this will change society, and will it be a positive or negative change?
Great question! I think it's neither negative nor positive in itself, as technology is basically neutral. It's what we do with it that has positive or negative value, rather than the tools themselves. The realisation that a generation are growing up who have never known 'pre-internet life' helps us realise what a crucial moment in history we live in.
Those growing up today as "digital natives" (those who have known nothing but web-enabled life) are staggered that we didn't have computers as kids, or the ability to just Google a question and get an answer!
One thing we really need to do is make sure the Church understands the significance of this massive shift. If we can't move towards "Church 2.0", which is something I've blogged about, we may not provide a place that these digital natives can really thrive in.
Tell me about your TV and radio work - what have you been doing recently? Why is this important to you?
It's something I did a lot during my time in the States. My eight years over there did involve music and songwriting. But equally it involved doing a lot of radio and TV shows as a host and a guest. I think radio and TV opened up for me there as fast as it did because I had a "funny accent"!
Americans certainly seem to like the British accent. I hosted radio breakfast shows across the country, presented music shows on TV, and wrote for magazines and news papers. I've always been passionate about Christians being a positive influence in media, not just staying inside the walls of the Church. I don't necessarily do media with the words "I'm a Christian" slapped across my face. I just feel like being there, being myself and representing the good values that Jesus stands for is a great thing.
Lots of people have only met Christians who are weird, angry, shrill, or are seemingly very out of date with culture and society. So I'm hoping we'll see lots more Christians just being themselves in the media, showing that people who follow Jesus are actually nice, intelligent and loving people.
Here in the UK, I'm a regular guest on Sky News reviewing the newspapers, and on programmes like Radio 4's "Sunday", or writing content for the BBC's "Religion and Ethics Online" site. There are other things in the pipeline with radio and TV, so I'm looking forward to those and will tweet about them as they unfold.
Tell us about your blogging.
I've been excited about blogging for years now and am constantly amazed at the way it can spark debate. My blog content focuses on theology and/or technology. I usually open up a topic, write enough to set the scene, then encourage others to jump in and share their views.
Ever since I got involved with social media one of my highest aims has been to create space for others to speak and let them find their voice. So I usually start discussions then get out of the way! I want to be a catalyst for others to speak and think issues through. Winning the Blogger Of The Year award last year was encouraging. Doing the PhD full time has slowed down my blogging, but now that I've just switched to part time I'll be back in the swing of blogging again very soon!
What have you been listening to recently?
I've been listening to a lot of movie scores, as I have to do a lot of reading for the PhD. I find music without lyrics allows me to concentrate the best. Music with foreign lyrics helps me study too. A couple of my favourite bands are Sigur Ros and Explosions In The Sky and both are great for that. There's a beautiful album called Riceboy Sleeps by Jonsi and Alex that I play constantly too. The Gladiator soundtrack and The Social Network soundtrack are big favourites too.
You're known as someone who blends theology and technology in a pretty unique way. How do you see those relating to one another?
Thanks! Well, they are definitely my two biggest areas of interest. I first started thinking about their relationship when the social media revolution hit, and American events invited me to speak on relationship between them both. The technology that really interests me is anything related to the internet.
It's transforming the way society interacts, and on that basis it's deeply affecting us as spiritual beings. It's shaping the way we think and process, learn and communicate. I'm very interested in how Churches can incorporate smart phones and social media interaction into their services and their weekly community.
I think people of faith should rise to the occasion of using tech and not shy away from it. I'd love to see the Church taking the lead on using digital technology with excellence.
For more on Vicky Beeching visit her blog here.
October 17th, 2012 - Posted & Written by Sam Hailes