Introducing the latest resource from the Messy Church store cupboard – Get Messy! May – August 2013 (the first of a four-monthly magazine for leaders & volunteers).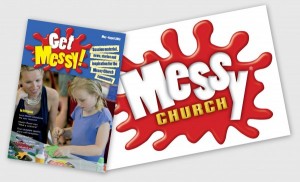 In the past, the Messy Team has focused on resourcing you with everything you need to run your project; turning your ministry into a one-way street of informational spoon-feeding. This new magazine heralds the dawning of a new day when the Messy Team focuses on you – on your needs, your questions and your spiritual well-being.
A Sneak Peek Inside...
This magazine provides opportunities to recharge your batteries, 4 session plans and - best of all, stories!
Recharging Your Batteries:
• Monthly Bible Studies: encouraging you to pick up your Bible for the sole purpose of dwelling in the Word (without thinking how you're going to re-tell this to families).
• Recharge Column: forcing you to take a desired breather, with practical advice ensuring leader and volunteers don't burn out.
• Dear Jane… Problem Page: providing you with the opportunity to write in for some expert advice, and be encouraged by a supportive community.
• News & Upcoming Events: keeping you up-to-date and connected with the ministry, reminding you that you're a crucial cog in the Messy picture of God's plan.
Monthly Session Plans:
• 4 Session Plans: guiding you through the next 4 months with activities, a celebration, and take-home ideas.
• Bunch of Recourses: planning sheets to help leaders be flexible, seasonal Messy readings and information on the latest resources available.
Stories, Interviews & Testimonies:
• Stories for Messy Churches Far & Wide: the first edition features Judyth Roberts from Australia, Julie Hintzgives from New Zealand and Jens Kristian, from Denmark (with some cracking pictures too).
• A Day in the Life of a Regional Coordinator: meet a new Messy Church coordinator each edition and discover their daily habits.
Have a peek inside the Get Messy! May-August edition for yourself, which should help you decide whether this resource is for you.
Meet the Messy Writing Team
With the ministry expanding year on year, there's a wealth of experience and creativity to be mined into new sessions. So in the interest of staying relevant (and not becoming stale) a fresh set of creative thinkers and committed writers have been assembled to create these new monthly plans.
Jane jokes in her introduction that each of these keen writers was judged based on how much paint was under their fingernails. But the aims are serious and exciting – to craft a "quality, timely, practical and inspiring set of sessions and articles that keep the Messy community connected, enthused, resourced and, yes... messy."
Eleanor Williams: In 2008 Eleanor started a Messy Church in Milton, near Cambridge, and was a Messy Church Regional Coordinator for two years. Eleanor lives with her husband (both are vicars), two teenage sons and two dogs.
John Rowlandson: Born and bred in Liverpool, John is a part-time primary school worker and a Reader for the Church of England. He and his wife Sylvia help with their local Messy Church: L19.
Sharon Lakin: Residing in Worthing, West Sussex with her husband and two young children, Sharon is the Children and Families Worker at the River of Life Church. She's been involved in their Messy Church since 2008, and is about to start a teaching degree in September 2013.
Kim Gabbatiss: A Children and Families Worker for the Methodist Church in York, Kim is passionate about Messy Church and enjoys the privilege of leading a Messy Church in her home church and supporting others as a Regional Coordinator around Yorkshire.
Not A Curriculum… A Community!
Before you misunderstand what this resource is, let's make everything crystal clear. It may seem like a curriculum, with monthly sessions helping leaders settle into a comfortable pattern. But it's so much more than simple spoon-feeding.
There's an army of Messy Church leaders & volunteers marching across the globe with creativity surging through their fingertips and a passion for sharing Jesus in their hearts. There are stories to be shared, crafts to be learnt, questions to be answered and testimonies to be celebrated.
That's what excites me most about these magazines; you are connected to this ongoing story. This is the very opposite of a curriculum: one church/writer who produces their resource for you to copy. It's a living, breathing, growing community: a body of parts all working together and contributing. Jane even encourages you to write in to the magazine with suggestions, photos, resources, ideas and your stories.
Now that's something worth being a part of! Eden says - "long live Messy Church and long live the new community-based resource Get Messy!"
Not familiar with Messy Church? Want to know more? Read our introductory article MESSY Church - creatively bringing the un-churched to your church, and get better acquainted with the global movement.
March 8th, 2013 - Posted & Written by James Warwood