There is undeniable scope in Love Has a Name. Not only in the sound of the album, which is epic, but in the reach of this, the latest release from Jesus Culture. Recorded live at their home Church in Sacramento, California, Love Has a Name abounds with atmosphere and passion.
Had it not already served as title their previous release, Let It Echo would have be a fitting title. Even sat here, at my desk, with a pair of blue earphones trickling down, I can still feel the sound of a band cramming every space with their sound. And speaking of Let It Echo, this new album matches exactly the lineup and balance of its predecessor. They both feature four songs by Chris Quilala, four songs by Kim Walker-Smith, and one song each for Katie Torwalt, Bryan Torwalt, Derek Johnson, and Chris McClarney.
Wasting no time, Love Has a Name starts off with one of its strongest songs: Halls of Heaven by Chris Quilala. A catchy and anthemic opener, is carries a distinctive sound and image that is found on the lead single from Kim Walker-Smith's latest solo album. One of running to God.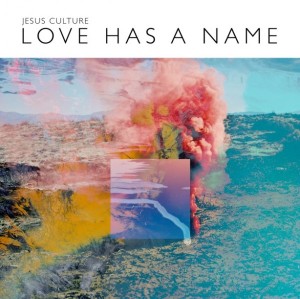 There is a 'to-me-to-you' structure for the first four tracks of Love Has a Name as Chris Quilala and Kim Walker-Smith alternate leading songs.
Yet, when Katie Torwalt steps into the album, with Flood the Earth, the album ratchets up a notch. Employing a dramatic mix of effects and break-beat, the song is a standout entry. Whilst Chris Quilala and Kim Walker-Smith swiftly find their groove on the album, there is an undeniable energy and strength to Flood the Earth that stands out from the rest. It is a hard song not to get caught up in.
That being said, there is an unfortunate 'Live-Aid'-ness to the next track. Something about Make Us One left me feeling that Chris Quilala is playing the role of Bono for the digital generation. Simple, altruistic lyrics about unity - 'for all the was and violence/ against our enemy / come here I live with your great river / restore the family / and make us one' - whilst sung with the best intentions, are not accompanied with the song necessary to prevent it falling on it's face somewhat.
But this misstep aside, the album soon gets back on track with strong entries from Bryan Torwalt and Kim Walker-Smith following on. The latter of which (called Never Stop) employs a liquid-synth that is a lot cooler than a worship song has any right to be, but is kept understated enough so that it doesn't steal the show. The very second she begins, Kim Walker-Smith's voice commands the rest of Never Stop. The same goes for Fresh Outpouring, whose sound is best described as a mellow Kavinsky-esque bass meets stadium-worship.
Going into this CD, I must confess, I had never really listened to Derek Johnson much before. But, after listening to Love Overcomes, I was definitely left wishing there was more of him on this album. His song isn't showy, and compared to most other track on Love Has a Name, is quite stripped back. This gave Derek Johnson a chance to craft a song that pulses with praise. It's a song that is necessary on such an impressively produced release: a thoroughly grounded, and heartfelt, song.
All in all, Love Has a Name is pure escapism in worship. The question of worship providing escape is one that often faces challenge, but there is certainly room for an album of worship that aims as high as possible. The very final track of the the album does serve to refocus what the purpose of worship is. Titled Whatever You Want, it is a rousing finale that remind you that this is not for people, not for sales, not for tickets, and not for 2-page online reviews that worship exists. It doesn't adopt a sound just for difference sake. It is for God. It is for however God wants it, and that is a good place be left in as the album closes.
Favourite Songs: Halls of Heaven, Flood the Earth, Love Overcomes
Least favourite: Make us One
Avaliable to order today, Love Has a Name is the latest album from Jesus Culture. You can listen to my favourite track from the album below:
August 11th, 2017 - Posted & Written by Aaron Lewendon